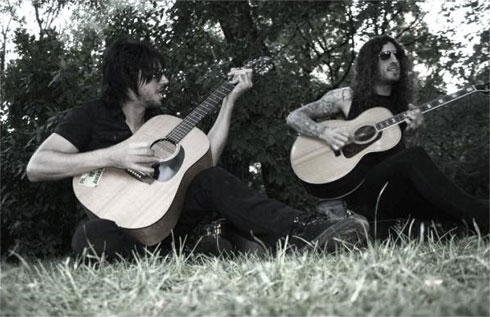 29 September 2010
Central Park may be an ironic location for a band that weaves dark themes within their own brand of rock n' roll, but The LustKillers organized an exclusive acoustic performance as Lust N' Daggers for close friends and fans. The performance featured songs from their upcoming record, That Which Won't Kill Us.
"Oddly enough, acoustic is more physical for me. The sets have gone over so well and we're considering offers for a three-week West Coast tour in November," said singer and guitarist Adam Becvare.
Lust N' Daggers consists of chief songwriter Adam Becvare and lead guitarist Bryan Wilkinson. The duo delivered a casual, yet competent set.
"Our new album is finished but we're waiting to find someone to finally mix the thing. A lot of producers want to attach their name to something very polished, but we want the record to sound like us. We're a rock n' roll band," stated Becvare.
Adam Becvare continues to expand his already extensive rock n' roll resume. Among his notable accomplishments has been his appearance with the surviving members of Goth Punk legends, Lords of The New Church. Appearing side by side with guitarist Brian James has provided Becvare with much deserved visibility and praise from his peers.
He has taken a firm stance against talking publicly about his experiences with the group, but he has proven he can deliver under pressure.
The Lustkillers have been a kind of rock n' roll puzzle, with Becvare fronting countless supportive band mates all spread out across the U.S. He assured the distances in no way hindered his dedication to crafting his own rock n' roll gospel. The former Black Halos guitarist was forthcoming with his desire to press ahead against all obstacles.
"In the past, LustKillers had always been a band of friends making memories together between my other projects i.e.: American Heartbreak, Lords, Black Halos, etc. The players always came and went freely and as necessary. Now that LK has become the primary, there isn't that leisure. I've solidified a touring lineup despite location and convenience. I don't find location much of an obstacle at all," he said.
Once Black Halos dissolved in 2008, Becvare transcended idleness and worked even harder with The LustKillers. He clarified the implosion of his former band and how members are beginning to offer different accounts as to what transpired.
"We were persuaded to hold it together so we made an album and toured with Social Distortion in 2007. Our bassist Denyss got fired and in 2008 our album got released. We toured across Canada but our van, trailer, gear and everything we owned was stolen in Montreal. We toured Europe 3 weeks later, but by then, the players were just done with it."
The flames of discontent continued to burn once conflicting media accounts ensued.
"There's of course needless, continuous, hurtful bullshit regarding the demise, still. Slander makes it really difficult for me to stay on the high-road cuz I willingly gave up a lot for 4 years to make that band happen," reflected Becvare.
Today, he continues to focus all his energy on The Lustkillers and his overall attitude appeared energetic toward the band's future.
"The new material is like the old material but harder in each direction. That, I consider to be evolution. There's a real confidence when you're able to be more of who you are. There isn't a conscious decision in my writing, because it's more of an exorcism and I don't believe evolution is a conscious decision either. If I get my way the third release will get the kitchen sink," he stated.
Becvare added, "We've been working with some very talented producers. They're able to really shine things up and wow you with production. We're really more interested in this album sounding like us, which the raw tracks do. It's been very trying but it's really living up to the the album's name, That Which Does Not Kill Us. Meanwhile, I have 10 more songs demoed for the third album!"
In addition to putting The LustKillers together and writing the majority of the material, Becvare took it upon himself to handle all press requests and bookings. The amount of resolve needed to successfully balance all aspects of a band is immeasurable, but he has been able to maintain his sanity throughout the process.
"I've had the luxury of separating my personal life and band life until now. If you're not working on your career, then you have no career. If you intend to tour and be a real band, you'll make it a business or you'll have no band. I'm still doing this and making great sacrifices. My decisions for the band ensure that I can keep doing this," he stated.
Becvare also stressed the importance of do it yourself ethics and how nobody will truly dedicate themselves to a band as much as the band itself.
"You will always resent paying a booking agent or company because you can do a better job. Truth of it is though, if you're touring proper you will never have the time to do it yourself. No one will ever love your music as much as you."
That Which Does Not Kill Us is slated to be released by Royal Crowne Records, once the final mixes are completed.
"I want to release it warts and all. Rock n' Roll is ugly and pretty is boring. Magic happens in the mistakes. We play smart so that we can continue to do this and we thrive on staying productive. I have 30 more songs written. Some for The Lords, some for LustKillers. As for personal goals, I'm just hoping to learn how to enjoy the ride a little more every time," Becvare concluded.
http://www.myspace.com/lustkillers