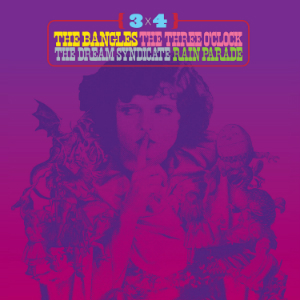 18 November 2018
I can absolutely say that I not only adore all four of these bands, but I was around when their very early work came out. It was such an exciting time for music, I was young and so entranced by the Rain Parade's first album that to this day it still resonates. And All Over the Place from The Bangles was a rockin' pop gem. And man, seeing and meeting the guys from The Three O'Clock was so cool. And I cannot forget how riveting Days of Wine and Roses was on my first listen, so like The Velvets yet so unlike them in some ways. That all these groups are still active in some way all these years later is so great, and to hear them cover each other's songs is a bit mind-bending. These songs are powerful and exquisitely rendered with love for the craft and the artists behind these works, and what a treat for Record Store Day collectors. The album will be available on CD and also as a double, purple swirl vinyl LP. The digital version will come later in January.
So the idea behind 3×4 is that each band covers a single song by the other three. Each band retains the spirit of the original in their interpretation, but also ushers in their own unique take on these songs. These bands have remained friends all these years, and the songs they chose to cover are obvious favorites, songs they also got to see performed live in tiny clubs back in the day. There are extensive liner notes with recollections from different band members that should sate the salivating music geek in all of us.
The Three O'Clock opens with a splendid version of "Getting Out of Hand" that has Michael Quercio in fine voice. The version of "Jet Fighter" by The Bangles is picture perfect, startlingly close to the original. I am struck by how much the vocals sound like Michael. Some people may like completely different interpretations, but sticking to the original structure works so well here. "You Are My Friend" is done up in proper fashion by The Dream Syndicate, evoking all the real heart-rending pathos of the original. I have always loved this song myself, and Emergency Third Rail Power Trip remains as one of my all time favorite albums to this day. And man, The Bangles really nail their version of "That's What You Always Say", it has all the droning, feedback drenched passages and some powerful vocals to boot! "As Real As Real" is a lovely interpration by Rain Parade, turning an already pretty tune into a psych pop masterpiece. I love the instrumental fluorishes which add much to the mix, and its chiming wonder recalls vintage Rain Parade as well. The Three O'Clock reimagine "Tell Me When It's Over" as baroque pop with keyboard washes. Rain Parade mashes up acoustic and electric work in "When You Smile" and add two Bangles (the Peterson sisters) on backing vocals. I really like this gentle approach to an ass kickin' tune.
Susanna Hoffs has lost none of her talent, her voice is as sweet as ever and she can sure hit the high notes in her band's faithful cover of "Talking In My Sleep." The Dream Syndicate nearly kick out the jams on the lively "Hero Takes a Fall", and Vicki Peterson lends backing vocals along with Linda Pitmon. "Real World" as done by Rain Parade is wonderful, and The Three O'Clock pay proper homage to Rain Parade on "What She's Done to Your Mind", and Susanna lends her voice to harmony vocals. The album's finale is courtesy of The Dream Syndicate's rip roarin' cover of "She Turns to Flowers". In summary, this is a very fine collection of covers that all fans of The Paisley Underground/Rainy Day scene will love.