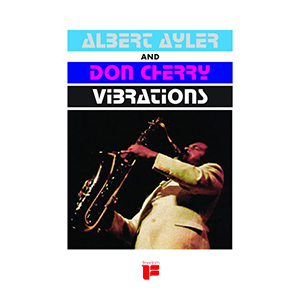 10 May 2019
The source of some of the most daring and even intimidating sounds in popular music, free jazz flourished in the sixties thanks to the innovations of Ornette Coleman and the endorsement of John Coltrane, among others. While plenty of classics have stayed in the racks over the decades, there are great records that have also fallen out of print, as with any other genre. Fortunately, ORG Music has begun rescuing many of these gems, reissuing them in new vinyl editions that are facsimiles of the originals.
Saxophonist Albert Ayler and trumpeter Don Cherry are important touchstones in the free jazz continuum. Officially an Ayler session and also available over the years under the title Ghosts, Vibrations is practically a primer on sixties free jazz. Definitely graduates from the Ornette Coleman school (Cherry being a Coleman alumnus and a participant in the genre's most important early recordings), the duo – joined by bassist Gary Peacock and drummer Sunny Murray – doesn't entirely eschew melody and structure, despite the free-range playing. Ayler's most famous composition, "Ghosts" appears in two versions, each keying on the song's signature riff, which sets up a safe space for the musicians to wander without getting lost. "Holy Spirit" travels the same road, its quavering main riff a jumping-off point for improvisation that feels freeform, but follows its own logic in ways known only to its creators. Both horn blowers are in top form here, with Cherry blazing on the second version of "Ghosts" like a man possessed and Ayler powering through the title track as in pursuit of the demons that did it. Vibrations is a fine introduction to the style for free jazz neophytes.
If Ayler and Cherry represent the accessible end of the free jazz spectrum, pianist Cecil Taylor serves as the opposite. Originally released in 1974 and out of print for most of the years since, Silent Tongues captures Taylor's notorious solo set at the Montreux Jazz Festival, debuting his eponymous five-movement suite. "Abyss (First Movement)/Petals & Filaments (Second Movement)/Jitney (Third Movement)," the nearly nineteen-minute opener, acts as a summary of Taylor's approach to music: frenzied runs up and down the keyboard without concern for key or structure, a melodic approach that seems beamed in from some other, less familiar dimension, and sonorous chords introducing and tying it all together. It's a tour-de-force of whirlwind creativity, containing just enough compositional structure (a holdover from his classical training, no doubt) to keep it from blowing across one's eardrums like a nuclear strike. The two-part "Crossing" sticks with the speed-demon martian scales, but adds a subtle sense of groove that makes the song feel like it break into dance at any moment. "After All" – which incorporates a reprise of "Jitney" – makes (what is for Taylor) extensive use of white space, giving the piece (and the audience) chances to breathe in between explosions. Taylor's music is more graduate level work than an entry point into free jazz, but once acclimation sets in, the beauty of Taylor's self-expression is hard to shake.
Though most associated with the free jazz movement, in truth the Art Ensemble of Chicago exists in its own space. Though the group has a stronger grounding in the blues and swing than most avant-gardists, it also looks further back to traditional African music forms, as well as the future for styles of music that at the time hadn't been invented yet. Add in a soupçon of gospel and a willingness to follow the muse wherever she leads, and you have a free jazz group that trades in aggression for spirituality and intensity for whimsy. 1969's Tutankhamun, the second album issued under the AEoC name, is a gereat xample of the group's distinctive mindset. In the title track, enigmatic chanting leads to a long-form piece that explores every corner of itself, with free improv meeting historical references and using the past to head to the future. "The 9th Room" hews more closely to jazz orthodoxy, which is to say it's got a walking bassline and burning, freewheeling performances by hornmen Roscoe Mitchell, Joseph Jarman and Lester Bowie, yet still sounds like no one but themselves. With drummer Don Moye not yet in the band, bassist Malachi Favors Maghostut provides the pulse throughout, with Mitchell, Jarman and Bowie adding a flurry of incidental percussion. This edition not only brings this remarkable work back to America, but adds the two-part "Tthinitthedalen," a walk along the fringe of the avant-garde that features enough of the Ensemble's trademark playfulness to be inviting, rather than intimidating.
These three reissues bring essential texts back from the dead, and could easily serve – along with primary innovator Ornette Coleman, of course – as the cornerstones of any burgeoning free jazz collection.
comments powered by