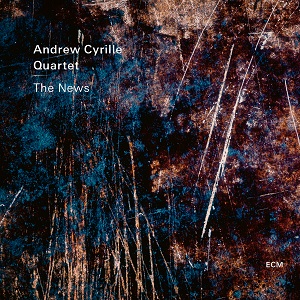 27 August 2021
While a long-respected and cherished sideperson in many different contexts, drummer Andrew Cyrille has been enjoying a renaissance as a leader. The News, his third album for ECM and second with his Quartet, may be his best for the label yet.
"Leaving East of Java" (composed by AACM-associated pianist Adegoke Steve Colson and the only non-band generated original) demonstrates the drummer's vision well. Cyrille keeps the pulse gently in play, avoiding direct rhythmic thrust to give his bandmates – guitarist Bill Frisell, bassist Ben Street and keyboardist David Virelles (replacing the recently passed Richard Teitlebaum) – room to stretch the melody into a tapestry of sparkling sound.The band explores the crevices of the song while keeping tunefulness in mind, making the track a master class in exploratory jazz.
Imbued with the blues, Frisell's "Go Happy Lucky"sticks to its boundaries without getting stale, making it the most immediately appealing cut on the record. The opening shimmer "Mountain" and contemplative ballad "Baby" also come from the axeman's pen and emphasize the melodic aspects of the group's aesthetic. Virelles' "Incienso" quietly kicks at the edges of its structure, infusing a tension into the otherwise canorous track. The pianist collaborates with the bandleader on "Dance of the Nuances," a perfectly-titled duet that lets Cyrille take the spotlight less with drum solos than with simple highlights of his contributions. Originally included on Cyrille's 1978 solo percussion album The Loop, the drummer's title track protracts the rhythm while using the rest of the musicians to evoke the sound of a newspaper carried away by the wind. His closing ballad "With You in Mind" begins with an original poem, before showing the composer and the band at their most nakedly romantic.
A staple of the avant-garde for decades, Cyrille is a master at playing around, over, under and through the beat, rather than on it. That's a tricky move to successfully pull off without creating pure discord. But Cyrille does it here by exploiting the songs' melodies and trusting and directing his bandmates' impulses. Because of that, The News stands out as one of his most accomplished and beautiful albums.