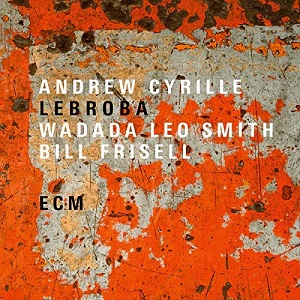 23 November 2018
A triumph of experimentation with jazz sounds, Andrew Cyrille's previous album The Declaration of Musical Independence reasserted the AACM-associated drummer's place in the top tier of the jazz pantheon. Lebroba, its even-better follow-up, consolidates that position. Working in a trio format with Declaration holdover Bill Frisell and trumpeter Wadada Leo Smith – a veteran from Cyrille's generation who's undergoing his own late-career renaissance – the rhythm master utilizes the same approach as on his last record. Playing around the beat far more than on it, Cyrille uses space as a rhythmic component in and of itself, creating a foundation that seems on first glance to be constantly shifting, but in reality holds firmly enough for his cohorts to explore the open air without worrying about getting lost in the wind.
That approach suits Frisell and Smith just fine. Frisell's time with similarly open-minded drummer Paul Motian prepped him for comfort with Cyrille's style, and he responds with melodic lines and arpeggiated comping that paint with sound as much as drive the tunes. Smith uses his horn to probe the arrangements, filling the empty spaces with savvy note choices rather than virtuoso blowing. Check out Frisell's bluesy fills on Cyrille's title track (a portmanteau of each musician's birthplace: Leland, Brooklyn and Baltimore) – he sets up the tune's structure for Smith to deliver slithering mute lines, while the leader adds percussion accents at exactly the right times. Cyrille's "Pretty Beauty" applies the trio's aesthetic to a ballad structure, led by Smith's adherence to a simple but graceful melody and nearly subliminal brushwork from the drummer. On Frisell's brooding "Worried Woman," the threesome gets aggressive, driving the piece forward with intent without indulging in pushy machismo or indulgent theatrics.
Cyrille and company are at their most ambitious on "Turiya: Alice Coltrane/Meditations and Dreams: Love," Smith's eighteen-minute suite inspired by its titular composer. That's a long stretch for any group of musicians to hold listener interest, especially one working in as sparse an arrangement format as these. But they do it almost effortlessly, expressing themselves freely while never losing sight of the melodies. Following each other's cues to lay out the length organically, the musicians' fluid interaction arising from this particular group chemistry becomes a masterclass in group improvisation. It's a perfect showcase for Cyrille's vision as a bandleader, as well as a marvelous example of how jazz can still evolve in the hands of master musicians and composers.