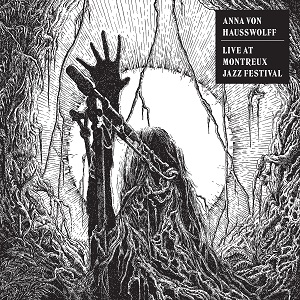 14 January 2022
It's refreshing to hear an artist like Anna von Hausswolff. The Swedish singer and multi-instrumentalist (with a specialty in pipe organ) almost casually defies easy description, freely blending elements of European classical music, religious hymns, indie rock and doom metal into a rarefied art rock that's allowed to her to open for Tindersticks and Lykke Li on the one hand, and collaborate with Sunn 0))) and Wolves in the Throne Room on the other. Capturing a 2018 performance opening for Nick Cave & the Bad Seeds at the titular fest, Live at Montreux Jazz Festival presents her music at its most enthralling.
Joined by a six-piece band and concentrating on tunes from her then-latest albums Dead Magic and The Miraculous, von Hausswolff generates sinister tones generated from minor keys, guitarists Joel Fabiansson and Karl Vento and her own ethereal organ. But she contrasts those sounds with her ecstatic wail (augmented by her sister Maria) for an unsettling but beautiful concoction that mesmerizes the eager audience. Songs like "The Truth, the Glow, the Fall" and "The Mysterious Vanishing of Electra" field an enigmatic power, but the siren and her musicians really hit their stride on the long form pieces. "Ugly and Beautiful" and "Come Wander With Me/Deliverance" find von Hausswolf at her most stunning and magnetic, drawing anyone within earshot into her mysterious, distinctive, astonishing musical universe.
While most live albums function as souvenirs, many also act as gateways, introducing a wide audience to an uncommon artist and cementing the music in the popular mind. Cosmic forces permitting, Live at Montreux Jazz Festival will be that record for Anna von Hausswolf.