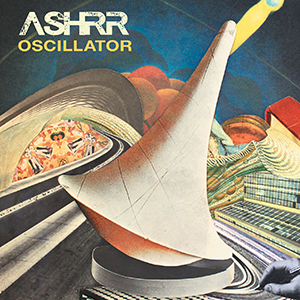 13 May 2019
Back in Ye Olden Dayes, the term "synth-pop" didn't necessarily mean nothing but synths providing the music, a la Human League or Depeche Mode. For a lot of bands, it simply meant synths shared equal space with the other instruments – cf. New Musik, A Flock of Seagulls, etc.
L.A. trio Ashrr remembers those days well on its first full-length album Oscillator (which includes all the tracks on last year's self-titled debut EP). Synthesizer beds and licks feature prominently in the mix, but don't completely overshadow guitars, bass and drums – provided (except for the drums, which come from sessioneers) by multi-instrumentalists Josh Charles and Ethan Allen. The pair compose a set of pop tunes that balance easy hooks with rhythmic elegance, bespeaking a love of the sophisticated side of British new wave. In truth, the arrangements really revolve around singer Steven Davis, whose measured croon sounds comfortable delivering lyrics that favor poetic expression over simplicity. His understatement gives even the most romantic metaphor a plainspoken soulfulness.
Thus enthralled by both memorable melody and plangent atmosphere, the trio create luminous pop songs that range from the spirited ("All Yours All Mine," "Artifact") to the moody ("Don't Wait Too Long," "Made Up Your Mind") and all points in between ("Paper Glass"). Like an undiscovered artifact of the original new wave days, Oscillator sounds fresh and exciting, including signposts of its era while still coming off as iconoclastic.
comments powered by