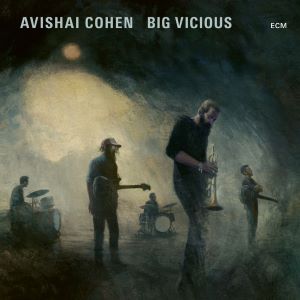 13 April 2020
Veteran Israeli trumpeter Avishai Cohen carved out a distinct space at ECM with a pair of excellent chamber jazz records, 2016's Into the Silence and 2017's brilliant Cross My Palm With Silver, plus 2019's traditionalist duo album Playing the Room featuring his regular pianist Yonathan Avishai. After proving himself one of his generation's most gifted acoustic jazz stylists, the Tel Aviv native takes a major detour with Big Vicious, also the name of his new quintet. Joined by two drummers and two electric guitarists, Cohen draws from rock, pop, funk, electronica and ambient music for a blend that casts a net outside jazz while remaining firmly inside its value set – like a trip-hop take on seventies fusion.
Though the melodies come first here, rather than solos, the band still relies on improvisation to put them across, making each track feel as if you're hearing the music unfold for the first time. Axefolk Uzi Ramirez and Yonathan Albalak (who also doubles on bass) provide dreamy, constantly shifting structures that float around the polyrhythms provided by percussionists Aviv Cohen and Ziv Ravitz (who also plays in the leader's acoustic quartet). It's almost as much a set of atmospheres as songs, textural backdrops set up to allow the leader to show off his horn to its best advantage.
Speaking of whom, Cohen brings the same silvery tone and inherent lyricism to this project as he does to his more traditional jazz work. Whether he's riding the funky groove of "This Time It's Different," piercing the clouds of the psychedelic "Honey Fountain," or contributing to the romantic haze of "The Things You Tell Me," Cohen connects deeply with each track, weaving himself into the spells cast by his bandmates. The musicians' choices of cover tunes indicate how wide a net they prefer to cast – Massive Attack's "Teardrop" seems right in line with Big Vicious' surface values, but the version of Beethoven's "Moonlight Sonata" is a surprising gamble that works out even better. Arguably the whole album is a leap of faith, given Cohen's deserved reputation, and lands Big Vicious solidly on its feet.