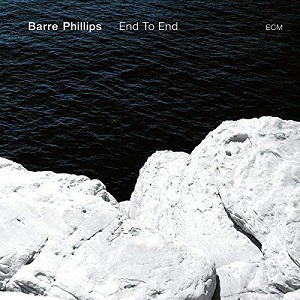 29 November 2018
Bassist Barre Phillips has played with everyone from Eric Dolphy to Gunther Schuller to Albert Ayler to fellow low-ender Dave Holland, and has at least two band-oriented bonafide classics, Mountainscapes and Three Day Moon, on his ECM resumé. But what's he probably best known for, at least to musical cognoscenti, is his catalog of solo bass albums. Calling them diary entries, he released the first, Journal violone, in 1968, and has put out more every few years since. End to End is not only the 83-year-old's latest, but also, he claims, the last.
Solo bass recordings often seem off-putting at first, more of a showcase for technique than anything else. But that's only in the hands of a bassist who's not interested in the music first. Phillips definitely is – here he comes across more as a composer whose primary instrument happens to be the double bass. Check out the five-part "Quest," which runs from the haunting arco melodies of "Pt. 2" and "Pt. 5" to the thrumming pizzicato groove of "Pt. 4." None of it is about his virtuosity, built up over decades of playing – it's about how he uses that virtuosity to serve the tunes coming from his head. The multi-part suite "Inner Door" follows suit, with his bow coaxing melancholy moans from "Pt. 2" and his fingers urging a singular drive from the closing "Pt.4." "Outer Windows" sticks to Phillips' compositional strengths as well, with the lengthy "Pt. 2" standing out for its toggling between staccato plucks and deep thrums for melodic expression.
End to End
is not a collection of doodles masquerading as songs, but a set of fully realized tunes performed with great sensitivity by a master musician. If this is truly Phillips' final LP in this mode, he's going out on a high note.