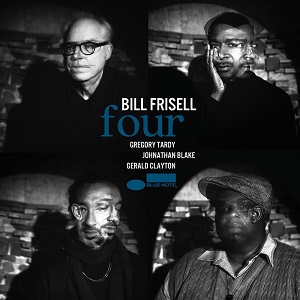 11 November 2022
Never one to rest on his laurels, guitarist Bill Frisell follows up not just 2020's excellent Valentine, but also his consistent work as a sideperson and bandmate, with the new quartet record Four. Working with a group of musicians with whom he's either played in other contexts or simply formed a mutual admiration society, Frisell compiles a set of tunes both new and previously recorded, with an intimate sound that calls back to his mid-90s records when he began to aggressively incorporate Americana into his already unique sound.
Check out "Holiday," for example, on which drummer Johnathan Blake gets the rhythm flowing New Orleans second line style, allowing Frisell, saxophonist Greg Hardy and pianist Gerald Clayton to play around happily – or "Blues From Before," which takes the same approach and twists it on its axis. Or sample "The Pioneers," a Frisell original based on the melody of Stephen Foster's "Hard Times," but taken into a dreamy realm of green fields and the city at night. Or the overtly bluesy "Monroe," a showcase for Tardy's soulful horn over Frisell's typically painterly chord work.
The main theme running through the album, however, is one of loss and celebration – the loss of old friends and peers over the last few years, and a celebration of their lives. Take "Dear Old Friend," the tender opener dedicated to Frisell's old school friend Alan Woodard, or the beautifully melodic and melancholic "Claude Utley," dedicated to Frisell's late painter pal. Frisell really puts his emotion into the lovely "Waltz For Hal Willner," a tribute to the eccentric and brilliant producer in whose projects the guitarist frequently found himself involved.
Meanwhile, the band gives Frisell's classic "Lookout For Hope" a pensive cast, with the leader taking a back seat behind his bandmates, particularly Clayton and Hardy on the beautifully thrumming bass clarinet. The group also recasts their boss's "Good Dog, Happy Man" with a more downcast atmosphere, while "Invisible" features all four musicians on equal footing for a collective expression of wistfulness. Remarkably, Frisell steps aside completely for "Always," shining the spotlight solely on Clayton as interpreter of the guitarist's somber melody.
Frisell and company end the album with "Dog on a Roof," a piece that feels deliberately unclear, as if it's not sure whether it should be happy or sad – an accurate depiction of grief when we don't know whether to sing our lost loved ones' praises to the skies or cry our eyes out. Anyone who knows Frisell's past music knows he tends to lean toward the former, but it's nice to hear him acknowledge the latter as he works out his own emotional journey through the musical comradery on Four.