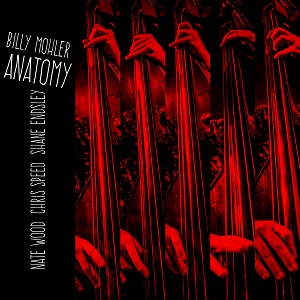 9 June 2022
Bassist Billy Mohler has a varied resumé that includes playing, writing or producing for names as varied as Dolly Parton, Nile Rodgers and Steven Tyler (?). But the Berklee College of Music and Thelonious Monk Institute of Jazz alum clearly sees his future in jazz. His second album, Anatomy features the same badasses that performed on his 2019 debut Focus: saxophonist Chris Speed (Broken Shadows, Myra Melford, Craig Taborn's Junk Magic ), trumpeter Shane Endsley (Steve Coleman, Kneebody, Michael Formanek's Ensemble Kolossus) and drummer Nate Wood (Kneebody, Tigran Hamasyan, Donny McCaslin), so you know he's not fooling around.
With a lineup like that, there's no way this record would suck, but even without them, Anatomy would likely be something special. That's in part because Mohler grooves hard and leads his players in just the right way: giving them a framework and letting them do what they do. But the main reason is down to the tunes themselves. Mohler may give his guys room to express themselves, but the songs remain nicely melodic, heartily rhythmic and magnificently accessible. The chordless format gives the arrangements (most of them crafted on the fly, with many final takes being rehearsals) an open, airy feel, which only enhances the brilliance of tracks like "Nightfall", "Speed Kills" and "Perseverance." Mohler also includes three solo bass improvisations that either introduce other tunes ("Abstract 2"), sound like ideas to be developed more fully later ("Abstract 1") or stand as complete pieces in and of themselves ("Abstract 3").
On top of all that, Mohler and company make it all sound so easy – it's clear that these musicians are comfortable with each other and trust their leader. Boasting nothing but advantages, Anatomy is, plain and simple, an excellent record.