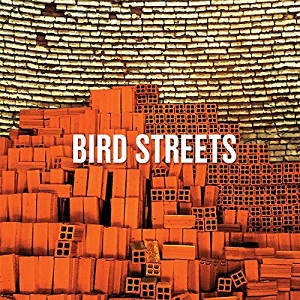 26 November 2018
It's all there in opening track "Carry Me": a swirling, brashly catchy melody, a bracing arrangement balanced between lush and rocking, personable, almost fragile male vocals, creamy, imaginative harmonies, lyrics grounded in reality but with clever turns of phrase. This is pop of a kind rarely heard anymore: informed by the sixties but matured in the eighties and nineties, guitar-based but not overwhelmed, high on craft but never aloof, heart on sleeve but rarely overwrought. Few artists essay this sort of thing in the twenty-first century, so it's no surprise to find songwriter/producer/multi-instrumentalist Jason Falkner as one half of Bird Streets – his post-Jellyfish style of music-making stamps this album like atmospheric production on a Daniel Lanois LP.
But the driving force is singer/songwriter/fellow multi-instrumentalist John Brodeur, late of half a dozen unknown indie rock acts and solo albums. Armed with a knack for classic hooks, a bittersweet outlook on life and a singing style just above intimate, Brodeur fits right into Falkner's approach to guitar pop, becoming the partner for which the latter has been searching since Jellyfish's breakup. Together the pair waxes wistful ("Heal," "Stop to Breathe"), spacy ("Pretty Bones"), soaring ("Betting On the Sun"), tart ("Thanks For Calling," "Direction") and, of course, rocking ("Until the Crown," "Bullets"), always staying close to the hooks as they do so. Encased in production that works the midpoint between texture and clarity, each track leaps out of the speakers in a way that grabs attention without being obnoxious about it.
The results of all this attention to craft and intent is an album that's immediately accessible (at least to fans of pre-EDM pop), but with a depth that rewards repeated listens – especially with headphones. Bird Streets is a reminder of the power of guitar-based smart pop, and a reassurance that it won't disappear, no matter how music evolves.