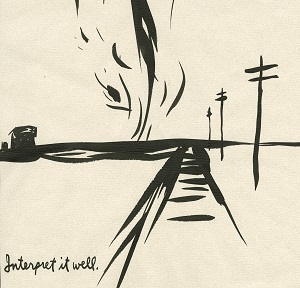 6 May 2022
A prolific drummer and composer for many jazz and rock acts, Ches Smith perfected his eclectic musical vision with 2016's ethereal and challenging The Bell, inaugurating his then-new road band featuring adventurous violist Mat Maneri and brilliant pianist Craig Taborn. By 2019, the band had added iconoclastic guitar star Bill Frisell to the lineup, before the pandemic shut down any further touring activities. With time on their hands and no gigs on the horizon, Smith and company were able to create the next record, and it's a doozy. If COVID broke the eggs, Interpret It Well is the omelet made from the results.
For the full flowering of the seeds Smith planted with this band, look no further than the title track. The leader writes tunes structured to allow freedom of movement from his players, trusting in their ability to come together at the right moments. Piano and viola swirl around Smith's floating kit work, with Frisell slithering through the cracks. But the seemingly spontaneous sonics coalesce as the piece progresses, becoming a gestalt sound collage assembled by a single vision. Taborn and Maneri erect a wall of sound, Frisell paints swathes of searing guitar, and Smith drives it all home with four-to-the-floor backbeat. It's exactly the kind of sonic boom one would want from an ensemble of fearless jazz adventurers sensitive to each other's moves.
The group knows when to pull back as well, lowering the volume and aggression for "I Need More" and "Mixed Metaphor" without compromising audacity or intensity. Smith loosens the reins further on "Morbid," letting the musicians wander as far afield as needed to languorously explore the nooks, crannies and spaces between molecules. The musicians combine every approach for "Clear Major," with Smith's roiling trap set pushing the band to deliver more unhinged performances (particularly Maneri and the usually reserved Frisell), before corralling everyone back to exploratory mode, then pushing them once again into flirting with chaos – a rollercoaster ride of improvisation that can leave an unsuspecting listener with a boggled mind.
Jazz is all about formidable compositions given distinctive life via expert improvisations. Thanks to Smith's faith in his players and confidence in his music, Interpret It Well sums up that approach and handily lives up to its title.