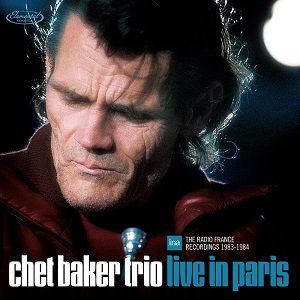 8 June 2022
Anyone familiar with Chet Baker knows the story. The trumpeter and singer shot to jazz fame in the 1950s, before drug problems derailed his career in the sixties and he left music. By the late seventies, he'd managed to work his way back into the jazz world by settling in Europe and becoming more prolific than ever, before dying in 1988. Part of that prolificacy included radio concerts, which is what Live in Paris: The Radio France Recordings 1983-1984, produced by label co-owner and jazz fiend Zev Feldman, presents.
Featuring a concert broadcast in June 1983 and one from February 1984, the double disk set features Baker alongside pianist Michel Graillier, a frequent accompanist in those years, and bassists Dominique Lemerle in 1983 and Riccardo Del Fra in 1984. The lack of drums means that the bassists and Graillier's left hand carry the rhythm, making the beat lighter than air and the swing relaxed. The first show leans heavily on standards like "Stella By Starlight," "But Not For Me" and "There Will Never Be Another You" that spotlight Baker's fragile tenor – though, interestingly, not the brooding balladry that hipsters love. Baker and company stretch the songs out here, both to give Graillier and Baker room to play but also just to luxuriate in the swing of it all.
The 1984 set focuses more on instrumental pieces, particularly deep cuts from the hard bop catalog – something Baker, rightly or wrongly, was not known for at this stage in his career. (Plus the vocal tune "Just Friends," a longtime Baker staple.) Even at the height of his powers, Baker was never a virtuoso player, relying instead on an attention to melody and a seemingly innate ability to hit the right note at the right time. That serves him well on Horace Silver's lively "Strollin'" and J.J. Johnson's luminous "Lament," conceding the instrumental fireworks to Graillier and Del Fra. Baker sounds most engaged on "Arbor Way," a cool piece by Brazilian composer *Enrique Pantoja" that goes on for nearly nineteen minutes without flagging. This disk showcases a side of Baker's artistry that tends to get forgotten beside the myth of Baker as the dark angel of love songs.
Though more for completists than casual Baker fans, Live in Paris is a worthy addition to the Baker catalog.