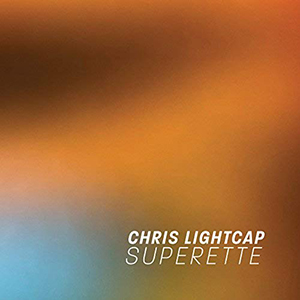 4 December 2018
Bassist/composer Chris Lightcap has an impressive resumé in the jazz field, appearing on records or in bands from Craig Taborn, Cecil Taylor, Whit Dickey, Joe Morris, Regina Carter, Chad Taylor, Marc Ribot and his own African-influenced combo Bigmouth. But he also harbors a love for psychedelic and instrumental rock from the sixties, and that's what provides the inspiration for Superette.
Joined by guitarists Jonathan Goldberger and Curtis Hasselbring and drummer Dan Rieser, Lightcap filters Link Wray, the Ventures and weirdo garage rockers like the Monks through his own improvisation-driven lens. "She Walked In," "Frozen Bread" (written by Hasselbring) and "Selector" lay it out: accessible rock riffs over a jazzy rhythm section, with fiery solos that emphasize playfulness and fun over burning intensity. "Djali" incorporates Lightcap's beloved African rhythms into otherwise rockist changes for a hybrid that could easily slip Afrobeat into a garage rock show without its adherents being any wiser. "While You Were Out," "Calling On Cars" and a lovely take on Skip Spence's "All Come to Meet Her" show that the approach works equally well on quieter fare. The group invites a couple of guests to join in the fun as well, with guitarist Nels Cline ripping it up on Hasselbring's "Far Away Planet" and Link Wray's "Ace of Spades," and organist John Medeski dominating "Light Trails" and offering foaming support on other tunes. The record ends in elegiac fashion with a gorgeous version of Neil Young's "Birds."
Lightcap stays in the pocket, letting his music and band speak for him – anyone expecting bass solos will be disappointed. But if you're looking for melodic, vibrant, improvisational jazz/rock, Superette is your meat, potatoes and dessert too.