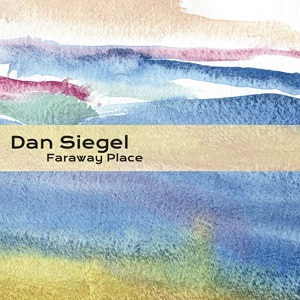 1 September 2021
Some instrumental music is jazz, while some is simply jazzy, if you follow. The latter often gets dumped into the bin marked "smooth jazz," which often translates to dollars, but absolutely no critical respect. A lot of the musicians under that umbrella deserve the scorn, making music that follows simplistic rhythms, painfully sweet melodies, and production that sands off any rough edges. There's a good reason a lot of those tunes score your visit to doctors' offices, banks or insurance brokers.
But not all musicians lumped into that category suck – there are a surprising number of minor gems amongst the dross if you dig. Keyboardist Dan Siegel certainly rises above the mire. Though he's been a star on smooth jazz radio from pretty much the time he emerged in the early eighties, it's not a comfortable fit, as his latest LP Faraway Place indicates. Part of that's due to the sophistication of his tunes. A song like "Something You Said," with its exotic chord changes and moody atmosphere, or cuts like "Curves Ahead" and "Tried and True," which are so reminiscent of late-period Steely Dan you expect Donald Fagen's voice to come in at any moment, express a desire for intelligent, animated instrumental pop – easy to swallow, but leaving an unusual taste behind. The lush blend of tune and arrangement of "Some Time Ago" makes clear why Siegel has been called upon for soundtrack work – it sounds like an expanded version of some long-lost television theme.
Part of it's also due to the quality of the musicianship. Siegel's intricate fingerings display roots in the work of pianist/composer Vince Guaraldi, a master at turning complex music into accessible singalongs. Drummers Vinnie Colaiuta and Steve Gadd own decades of experience making pop music swing, and double bassist Brian Bromberg's elastic bottom-holding stands as most of the cuts' secret weapon. Guitarist Allen Hinds serves the song to the point of being almost subliminal, but it's also hard to imagine the tracks without his contributions. But ultimately, of course, it's Siegel's vision of sophisticated speechless pop music that carries Faraway Place away from the smooth jazz coming out of the speakers in your dentist's waiting room, and into a bin of its own.