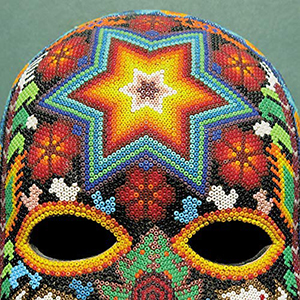 30 November 2018
It's been five long years since we last heard from worldbeat iconoclasts Dead Can Dance. The Melbourne-formed, France-based duo entered radio silence following the end of its 2013 touring cycle for comeback album Anastasis. Fortunately, the hiatus ends with the release of Dionysus, a brand-new DCD album that's both familiar and not quite like anything the group has done before.
Dionysus is, first and foremost, a concept album. Fascinated by the continued influence of the Greek god of wine, theater and religious ecstasy on harvest festivals in the twenty-first century, multi-instrumentalist Brendan Perry created a song cycle exploring the deity's origins, rituals and impact in both ancient and modern times. It sounds like a tall order, especially for an album that's a mere 36 minutes long. But DCD pulls it off, in part by being smart enough not to attempt a historical and spiritual treatise that would be best conveyed in a book. Instead, Perry explores his themes in abstract, mostly instrumental form. Utilizing a fairly typical (for this band) blend of exotic percussion and stringed instruments and electronics, Perry weaves strains of Celtic, Middle Eastern, African and minimalist drone musics together into an instantly recognizable tapestry: mysterious, mystical, danceable. Longtime DCD fans will recognize this aesthetic immediately.
Musical partner Lisa Gerrard adds her hypnotic vocals at key points, taking the form of the god's feminine aspects, especially that of psychopomp (the mystical being who escorts the souls of the dead to the afterlife). Her ululations on "The Invocation" would entice any skeptic into the circle of worship, like Aretha Franklin singing a Christian hymn to an atheist. Perry adds his baritone from time to time as well – he's essentially the lead voice on "The Mountain" – but sticks mostly to the instrumental backdrop, letting Gerrard be the siren calling to the lost. With no vocals in English – it's not even clear where they're in any known language, in fact – the feel of the music matters most, and it's one that proves nearly irresistible.
Though at first the record seems like a major departure from DCD's norm, it doesn't take long to hear that it's merely an expansion of the band's usual vision. Strangers to DCD's world, those coming without the baggage associated with a fan's expectations, will be even quicker to take Dionysus for what it is: a gorgeous, enigmatic, distinctive piece of work.