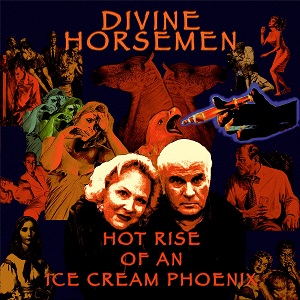 26 August 2021
Singer/songwriter/author Chris D. became justifiably famous for the fierce 'n' feral Flesh Eaters. So much so, in fact, that his follow-up band is often overlooked. Between the Eaters' early eighties breakup and late eighties resurrection, D. led the Divine Horsemen, a rootsier, more subtle proposition that produced a short string of records for Enigma and SST, including minor classics Middle of the Night and Snake Handler. Following the Eaters' recent resurgence with the shockingly good LP I Used to Be Pretty a couple of years ago, D. decided to reconvene the Horsemen, reuniting with co-singer/songwriter Julie Christensen and guitarist Peter Andrus, along with new rhythm section Bobby Permanent on bass and X's legendary DJ Bonebrake on drums, to kick up some new noise.
As with the Eaters' comeback LP, the intriguingly titled Hot Rise of an Ice Cream Phoenix is a blend of covers, new songs, and updated older material. The pounding rocker "Handful of Sand" comes from the EP of the same name, one of the original Horsemen's final releases, while the raging "Mind Evil Soul Fire" and seething "Love Cannot Die" come from D.'s overlooked 1995 solo album Love Cannot Die. D. and Andrus contribute the gothic ballad "No Evil Star," a showcase for D.'s tremulous bawl, the dramatic"Stony Path," and the ripping opener "Mystery Writers." Meanwhile, D. and Christensen team up for "Barefoot in the Streets," all ragged harmonies, acoustic 12-string guitars and romantic acridity.
Just to remind us she's not just a harmony and duet singer, but an equal creative partner, Christensen contributes the moody "Falling Forward," co-written with singer/songwriter Lathen McKay, and also recruits the Tim Lee 3's grinding "Any Day Now" and the melodic duet "Strangers," penned by Nashville's Will Kimbrough and Johnny Duke. In full-on rock & roll mode, the band also has a blast ripping through Patti Smith's Stonesy "25th Floor" and Jefferson Airplane's roaring "Ice Cream Phoenix." The Horsemen put all these songs through the ringer of their vision, soaked in black-and-white noir films, cheap crime paperbacks, and every story of doomed and decadent love you can imagine.
One of the most satisfying tracks is the obscure "Can't You See?", a song written by Charlie Cuva and Robert Downey, Sr., included on the soundtrack of Downey's film Pound, and never commercially released. Strained through the Horsemen's pulpy aesthetic, it becomes an anthem of urban power rock, and an album highlight. Reclaiming its classic sound of sweat- and grime-stained Americana, Divine Horsemen is reborn like the mythical creature in the title.