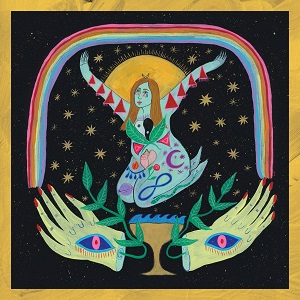 24 August 2021
Though she came up through the shit-hot post-millennial London jazz scene, Emma-Jean Thackray isn't a jazz musician per se. She's a peer of trailblazing British jazzers like Moses Boyd and Nubya Garcia – and shares their desire to get jazz fans back onto the dance floor – but the young Yorkshirewoman has as much affinity for funk, soul and psychedelic rock as the spiritual jazz that shimmers through everything on her debut album Yellow.
Take "Venus," for example. Multi-instrumentalist Thackray and her band lay down an infectious groove over which she sings an ode to the titular goddess – not exactly the usual pop or R&B lyrics – before adding a ripping electric piano solo and coda that's straight out of the George Duke handbook.The equally funky "Third Eye" shakes its thang, but does so against jazz harmonies and an even more acid cosmic lyric. "Sun" pays tribute to its eponymous subject with an uplifting melody and driving rhythm (plus the on-the-nose lyric "It's gonna be a brighter day"), while "Spectre" adds lush strings and a deliberately haunting tune that's as much sixties psych soundtrack music as jazz funk. Inspired by her hometown's brass band tradition, "Our People" fields a funky brass section in celebration of community. The title track adds gospel vocals and handclaps to drive the point home about Thackray's emotional concerns.
Not everything reaches for the soul, though – "Green Funk" and "About That" set aside spiritual concerns and go straight for the hips and heart. But even the lighter side of Yellow shows sophisticated composition and arrangement skills that indicate a bright future for this young dynamo. She may not be strictly jazz, but Thackray is proof that twenty-first century London boasts some of the most forward-thinking jazz and jazz-influenced musicians in the world.