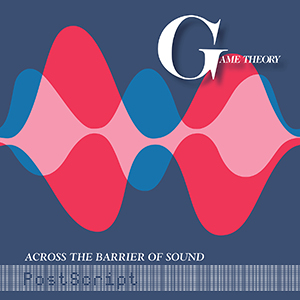 20 March 2020
For casual listeners, the years between Bay Area unique psych/prog/power pop combo Game Theory's final album Two Steps From the Middle Ages and the debut of bandleader Scott Miller's more overtly psychedelic combo The Loud Family seem barren, save the usual "greatest hits" compilation (Tinker to Evers to Chance). In reality, the band hadn't stopped working – it had merely reconfigured itself into what would now be called an indie rock supergroup. Miller and stalwart Gil Ray remained from the previous lineup, with the latter moving out of his longtime drummer position into that of guitarist, keyboardist, and utility man. In his place came Jozef Becker, former drummer of Game Theory neighbors and desert psych rock faves Thin White Rope. Michael Quercio, bassist and singer/songwriter of the recently-split acid power pop band The Three O'Clock, took up bottom-end duties, not to mention informally becoming the Dave Davies to Miller's Ray in the songwriting department. This version of the band lasted about a year, from 1989 to 1990, before breaking up purely due to distance – having one half of the group living 400 miles away from the other half was no small problem in those pre-internet days. Miller then went on to form the Loud Family, with Quercio forming Permanent Green Light.
Before that happened, though, GT Mk. II (III? IV?) made some recordings, many of which are collected here. To be sure, Across the Barrier of Sound: Postscript is not an unreleased album – every track here is a demo, home recording, or live cut. Many of the songs were resurrected as part of the Loud Family's first LP Plants and Birds and Rocks and Things: the delightful "GO Back to Sleep Little Susie" morphed into "Aerodeliria," "Rose of Sharon" transformed into "Rosy Overdrive," two different takes on "Inverness" point the way to the Plants cut, and "Some Grand Vision" expanded into "Some Grand Vision of Motives and Irony." There are also early versions of "Slit My Wrists," "Idiot Son" (twice), "Jimmy Still Comes Around," "Even You," "Sword Swallower," and "Take Me Back (to Halloo)." There's also "Laurel Canyon (Reprise)," a tune that wouldn't find full flower until the posthumous 2017 GT friends 'n' family album Supercalifragile.
But there's more to Barrier than songs that would be recycled later. There are a handful of new tunes never released anywhere else, including "The Second Grade Applauds," "Treat It Like My Own," and a pair of Miller/Quercio co-writes: "The Come On" and the spectacular "My Free Ride." The collection also features several covers that highlight some of Miller's many influences: Big Star ("Back of a Car"), the Monkees ("The Door Into Summer," a live version introduced by Quercio as being by Naked Eyes), the Nazz ("Forget All About It"), the Three O'Clock ("A Day in Erotica"), Brian Eno ("Needle in the Camel's Eye"), and, of course, the Beatles ("All My Loving," which opens the record). There's also a hidden bonus tune: "When She's Alone," from the catalog of Miller's pre-GT combo Alternate Learning.
While the fidelity varies, sometimes widely, it's never enough to inhibit any enjoyment of the songs, of which there isn't a bad one anywhere. While hardly the unified statement that the rest of the band's albums are, Across the Barrier of Sound: Postscript is more than its title implies. It's a solid, enjoyable, and, for fans, important piece of Game Theory history.