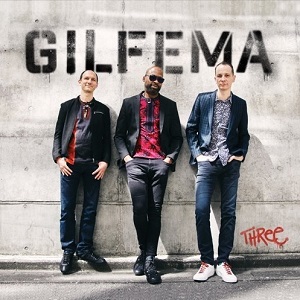 29 April 2020
Benin guitarist Lionel Loueke has made quite a name for himself in the past decade, not only as a solo artist with a distinctive jazz-meets-Afrobeat sound, but as a sideman for luminaries like Herbie Hancock and Chick Corea. The acclaim is well-deserved, but it's also overshadowed his long-running trio Gilfema with Hungarian drummer Ference Nemeth and Swedish/Italian bassist Massimo Biolcati. Of course, Gilfema hasn't released a record since 2008, but they're making up for lost time with Three.
The trio kicks off its third album with a grand statement of sorts. Combining highlife guitar lines with a swinging rhythm section playing in a difficult time signature, Loueke's "Têkê" functions almost as the bible by which the group will adhere. Not that form becomes formula. The group injects a healthy dose of funk into Loueke and Biolcati's snappily-titled "Algorhythm and Blues and Nemeth's frisky "Happiness," while giving their jazz half a proper airing with Loueke/Biolcalti's groovy "Left Undone" and blazing "13th Floor to Heaven" and Nemeth's fleet-fingered "Requiem For a Soul." "Brio" (yet another Loueke-Biolcati co-write) and the guitarist's "Lé" let the jazz elements settle into the foundation and go straight for life-affirming Afropop. Biolcati's closing "Until" loops his arco bass with Loueke's guitar synthesizer melodies for a piece that doesn't fit any obvious criteria.
The band is smart enough to include a ringer for neophytes in the form of Jimi Hendrix's "Little Wing." With stuttering guitar, shifting rhythms, and the melody carried by double bass, these guys' take on the much-covered warhorse breathes fresh life into its hoary old corpus. While Gilfema is hardly the first or only act to blend African music and jazz, the band puts itself at the forefront of that mix with Three.