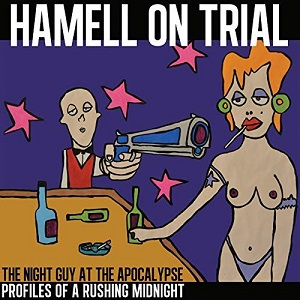 14 December 2018
When Hamell on Trial hit the scene in the early 90s, there were probably a lot of folks who thought his distinctive persona – blackly comic New Journalist as acoustic punk rocker – was good for a couple of records, and then he'd disappear in the bowels of some writer's room somewhere, cranking out one-liners for late-night Comedy Central programming. Nearly thirty years later, Ed Hamell is still on the road and making records, of which The Night Guy at the Apocalypse Profiles of a Rushing Midnight is the latest.
Like 1999's Choochtown, The Night Guy is a collection of crime fiction, casually violent and profane, full of seedy characters you'd cross the street to avoid. "Love at First Sight," a tale of ugly but true love, "Aggie and the D.A.," a story of the night everything went wrong, and "That'll Be the Bloody Day," a jaunty singalong of the ways revenge will be taken on poor Bobby (the same Bobby that's popped up on Choochtown?), entertain and enlighten, digging into the minds of their protagonists with cold wit and no small amount of empathy. They also make you glad you're observing from a distance. "The Night Guy" throws the album's perspective into sharp relief, as the titular storyteller lays out the voyeur's instinct while relating tales of desperation, idiocy and woe.
Recording everything live on his phone with little more than his guitar and his collection of New Yawk accents, Hamell eschews slick production – or any production at all – in order to put his stories right in your ear, where they'll slither into the lizard part of your brain and leave stains. Also included in the vinyl-only album is a self-generated newspaper that cites Hunter Thompson, Philip Marlowe, Brendan Behan, Charles Bukowski, Sam Peckinpah, Williams Burroughs and more, and if that litany of ne'er-do-wells are as inspirational to you as they are to Hamell, The Night Guy at the Apocalypse Profiles of a Rushing Midnight is for you.