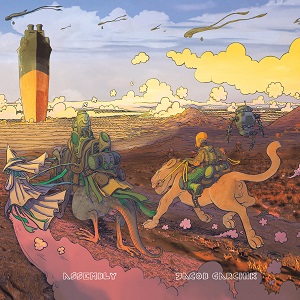 12 May 2022
Outside of some fusion groups, there aren't that many jazz artists that use the studio and its gear as an instrument. On Assembly, his seventh album, trombonist Jacob Garchik and his band of trusty sidekicks aim to change that. Though the performances follow the standard line of an acoustic quintet, Garchik takes the tracks from his musicians – saxophonist Sam Newsome, pianist Jacob Sacks, bassist Thomas Morgan and drummer Dan Weiss – as just the beginning of this record's construction. He gathered the band's jams on blues and standards, took them apart and reassembled them, brought the players back in for overdubs and re-recordings, and ended up with an album that's far more a studio construct than a snapshot of a live recording.
Mind you, though electronics matter here, we're not talking about the addition of digital beats or major sonic alterations. Instead Garchik uses the collage method of making art, creating multiple tracks from different performances by the same musician, looping riffs, overlaying a song in one time signature over another song in a different time sig, and just layering, re-layering, blending and reconstructing like an electronica producer stuck in a snowstorm with a hard bop band. "Fantasia" combines rolling drones – made by connecting a hose to the saxophone – with finger-popping bop for an emotional rollercoaster. "Idée Fixe" uses a Sacks solo to build a brash track that's cluttered in just the right way. "Pastiche" interweaves different takes into one seriously swinging whole. "Homage" goes Phil Spector on its tune, with multiple tracks by each instrument and a unified presentation that belies its massed origins.
Again, this isn't some experimental jazztronica project – the tracks with which Garchk ended up all sound like we expect postbop jazz to sound. But the construction belies the traditional idea of recording an ensemble live in the studio. Instead of preserving performances, Assembly instead presents them as parts of a considered whole, letting the music speak without compromise.