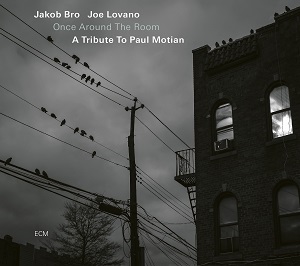 3 November 2022
Legendary drummer and bandleader Paul Motian cast a long, long shadow with his eclectic work over the course of his sixty-decade career. Not only amongst practitioners of his instrument, but also over the work of his many sidepeople – all of whom continue to sing his praises long after ceasing his employment. Saxophonist Joe Lovano was one of his longest tenured assistants, walking his path with Motian in the early eighties and continuing, usually in concert with guitarist Bill Frisell, until the drummer's death in 2011. Guitarist Jakob Bro had a much shorter stay, playing as a member of Motian's Electric Bebop Band in the mid-'aughts, but, like everyone else in Motian's orbit, was deeply affected by his time. On Once Around the Room, the pair pay tribute to their late mentor not by covering his tunes, but by propagating his spirit.
No one could spot-on-replicate Motian's unusual drum style, which swirled around, above, below and through the pulse without ever losing control of the rhythm. So Bro and Lovano do the next best thing: they bring in two drummers. Joey Baron and Jorge Rossy both have experience with elastic percussion playing, and their rumbling roil emulates Motian's style without copying it. The low end features a trio of bassists, Larry Grenadier and Thomas Morgan on double bass and Anders Christensen on electric bass, that somehow don't step on each other's toes, even when they're all playing together. While all the elements are there for this septet to indulge in free form chaos, instead the group plays orchestrally, listening to and complimenting each other, even as they stay true to Motian's concept of boundaryless post bop.
Meanwhile, Lovano and Bro both turn in some of the most inspired work of their careers. On "For the Love of Paul," the most overt of the album's tributes, the rhythm section creates undulating waves of sonic motion on which the horn and guitar sail. Bro contributes grittier textures than he's known for in his ECM work, adding a subtle snarl to his arpeggios and playing lines that refuse to resolve. Lovano joins him, but he just as often lays out, adding brief dollops of blurt to fill in empty space as he sees fit. The track's tension rules here, with the whole enterprise often feeling like it might all dissolve into its individual components…but never doing so. "Drum Music," the only Motion composition on the record, takes that approach and cranks it up, with the drums approaching thunder, Bro distorting his tone to pure menace, and Lovano playing more aggressively than he has in years. Lovano's "As It Should Be" and the spontaneous group composition "Sound Creation" follow the same routes, though with less aggression and more looseness.
Bro's "Song To An Old Friend," on the other hand, revels in its cohesion, putting the rhythm in the background to allow the guitarist and the saxophonist to exercise their ballad chops for some of their most emotional playing. Bro also has the last word as a writer, ending the album with the lovely "Pause," an atmospheric ballad tailor-made for Lovano's soft side and a song that would fit well on Bro's own ECM albums. It's also a reminder of Motian's work with the great Bill Evans, and that the drummer was as at home with melody as experimentation. Ultimately, it's Lovano and Bro's familiarity with their former boss's aesthetic that guides Once Around the Room, and their confidence in how far and wide it ranged that makes the album a triumph.