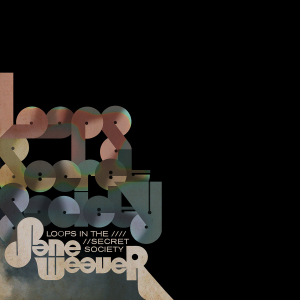 11 July 2019
Jane Weaver has the perfect surname, as she weaves a magical sonic tapestry whenever she creates music. I was late to the show in realizing her talent, as it was 2017's brilliant Modern Kosmology that turned me on to what I was missing. She deftly meshes electronica with dreamy, psychedelic rainbow swirls of sound that comfort and succor the listener. Electronic music so often has a chilled ambience, whereas Jane's music is suffused with warmth. I am not sure how she does it, perhaps she's divinely inspired on some level. Whatever the case may be, this new collection of reimagined tunes drawn from the aforementioned Modern Kosmology and 2014 album The Silver Globe is a treat that all fans will enjoy immensely.
Loops in the Secret Society tours its way through parts of both her previous releases, with new ambient pieces offered up in shining splendor, and with new tangents explored in a lab-friendly blossoming of the Weaver vision. It's a feast for the senses, and one that will shower down in golden audio trails to delight the ears of even the most discerning listener. Guests on this recording include Henry Broadhead, PJ Phillipson, and Andy Votel.
"Element (Loops Variation) is first out of the gate, swirling with lovely, chill beats, a space soundtrack for a lonely planet. This tune first appeared on 2017's The Architect EP in a sprawling yet downtempo version. Despite the gorgeous overlay, there is an ominous undertone that washes through the mix. It is a heady confection, and this sonic template informs many of the other deconstructed tunes that appear here. "Milk Loop" is a short burst of disquieting brevity, with oddly strummed harp sounds that do nothing to dispel the unease that surrounds it. "Arrows (Loops Variation)" culled from The Silver Globe is fragile and a perfect synth pop composition in miniature at just under 4:30. "Found Birds" is an original, short form piece that coheres to the overarching theme of this record. "H>A>K (Loops Variation)" first appeared on Modern Kosmology and is more airy and intimate than the original. "Did You See Butterflies (Loops Variation) originates from the same album, and is lovely and immediate. I find myself moving in time to the beat and wallowing in the simple pleasure of hearing Jane sing and play such exquisite music. The pretty "I Wish (Loops Variation)" has acoustic guitar anchoring it, meshing seamlessly with washes of synth. This is another favorite of mine from Kosmology and the new arrangement works better. "Mission Desire (Loops Variation)" is stark and disturbing, pulsing with alien energy. "Battle Ropes" is an original piece that passes through at warp speed, while the recurring "Found Birds" isn't markedly different from its first appearance.
"Slow Motion (Loops Variation)" is as beautiful as the original from Kosmology, and is one of her best works. It's sing along music of the highest order, with meaningful lyrics and gauzy sonics that embellish this song wonderfully well. "Margins" is a pretty, brief interlude before "Cells (Loops Variation)" kicks in, a grand reimagining of the original from The Silver Globe. It's less hazy and more crystalline in essence, and it pleases me. Just gorgeous! "Code (Loops Variation)" was lifted from The Architect and borders on elven psych folk. I can only imagine The Sidhe weaving a mystical spell, drawing in listeners and ensnaring them in an endless glamour. "Ravenspoint (Loops Variation)" is gorgeous psychedelic dream pop, drawn initially from Kosmology. The two versions are markedly different, yet equally pretty. I think this may well be my favorite alternate version on this lengthy but remarkable release. "Majik Milk (Loops Variation)" is lustrous and splendid, punctuated by strums of acoustic guitar and anchored by Jane's haunting voice. A pair of intriguing originals, "Ivana Vessel" and "Battle Ropes" close down this album, sputtering electronica with dense layers of synth. All the marvelous sounds heard throughout this record stay with you long after the last note fades away. Highly recommended for all Jane Weaver fans, and those who love lush, psych-inflected trip hop.
Catch up with Jane Weaver on Facebook and pick up the album on Bandcamp.