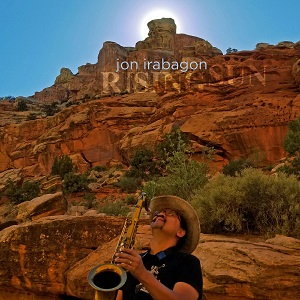 13 September 2022
Inspired by trips into the West with his family (as depicted on the album cover), saxophonist Jon Irabagon's latest album Rising Sun is an American journey, taking the experience of some of the States' most beautiful country and reconfiguring it into jazz. This statement not only pushed Irabagon's writing into new territory, but also allowed him to recruit a killer band of friends and previous and current bandmates: pianist Matt Mitchell, bassist Chris Lightcap and drummer Dan Weiss, with guitarist Miles Okazaki and trumpeter Adam O'Farrill as guests on a few tracks.
The first song "Sundance" sets the tone. Lightcap and Weiss keep the rhythm steady but ever-changing, moving from bop to groove and back, keeping the players on their toes. Mitchell provides a block chord foundation in constant motion, keeping the melody in flux. That allows Irabagon himself to really fly off his own handle, infiltrating the cracks of his compositions and chasing the dust out of them, ripping across the spectrum of his own talent without ever turning his aggressive runs into flat-out chaos. This cut alone contains enough excitement for ten regular jazz albums, and it's only the beginning.
Irabagon and company keep that spirit burning throughout the rest of the LP. Starting out with a walking bass line and evolving into free jazz expression, "Mammoth" brings in O'Farrill, who uses his muted horn to double Irabagon's undulating lines over Mitchell's McCoy Tyner-meets-Cecil Taylor clangor. The post-bopping title track includes Okazaki, who contributes some subtle rhythm work and fuzz excursions to the fluctuating grooves and piano/sax fireworks. O'Farrill returns for "Needles," joining the leader in swooping over the frisky drums tracks and Mitchell's warm electric piano excursions. Enveloping the aesthetic of seventies fusion without really sounding like it, "Hoodootoo" mutates the blues with guest guitar crunge from Okazaki. Originating as a solo sax piece, "Alliance" fills out into an expansive tour-de-force that combines modal and Latin strains of jazz, but comes out Irabagonese.
Irabagon takes the band into full-on bebop on the eponymous song, originally composed by the great trumpet pioneer Dizzy Gillespie and featuring the most tradition-minded and technically dazzling performance here. But it's only one wrapper on an album that lets its author put his fingers in many different pies, all without losing focus. Rising Sun is a new highlight in Irabagon's already-illustrious career.