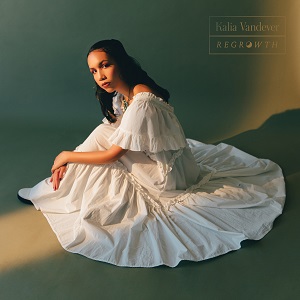 5 May 2022
Regrowth is a curious title for a second album – it almost suggests a do-over, a reconfiguration of vision. For trombonist and composer Kalia Vandever, it perhaps implies not that she needed to improve on her first album, but that she's merely growing faster and fuller on her second. Regardless of the intention, album #2 does indeed show advancement in her work as writer, player and bandleader. Joined by guitarist/producer Lee Meadvin, bassist Nick Dunston, pianist Paul Cornish, drummer Connor Parks and saxophonist Immanuel Wilkins, Vandever unfolds her pieces at a deliberate pace, never jumping straight in, but never letting lanquidity take over.
Opening cut "Soft," for example, begins with her duetting with Wilkins, as instruments slowly enter until the full ensemble takes the tune to the next level. That song also highlights another pair of favorite traits: a fondness for time signatures outside of 4/4 and creating intertwined and harmony horn parts – see also "Lift" and "Passing Thoughts." Those tracks also reveal her skills at arranging for ensemble, as the players become instruments beholden to her compositional will. In "Pick It Up (and Drop It Again)," while the musicians have their own strong personalities (especially Cornish and Meadvin), they never overshadow their leader, willingly putting their own voices to use bringing Vandever's songs to life. This is even more evident in the engrossing dreamscape "More of the Good Stuff Later," in which the band weaves a complex web of free playing that serves as a foundation for Vandever's lush soloing.
An impressive sophomore LP, Regrowth displays creative development on all fronts. As good as it is, it also presages more evolution to come, indicating a masterpiece sits in Vandever's near future.