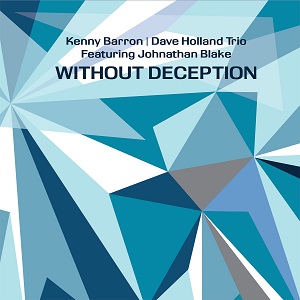 6 March 2020
Pianist Kenny Barron and bassist Dave Holland have a friendship going back decades – nearly as long as their respective careers in jazz. Barron's work on the eighty-eights as both performer and educator has impacted hundreds of hard bop and post bop keyboarders, while Holland's skill made him a first-call bassist for years before his own work as a composer took precedence. The duo proved their musical chemistry on 2014's collaborative album The Art of Conversation; even with the addition of drummer Johnathan Blake, it continues to burn bright on Without Deception.
In all honesty, the record follows the usual rules: intro, head, solos, return to the head – it's what jazz is built on. But describing the record's mechanics belies the brilliance that lies in its tracks. The title tune tells the story. Written by Barron, the song features smart piano licks while Holland and Blake provide an easy swing. Everybody gets a chance to shine with solos, with Barron effortlessly proving his mastery of the keyboard and Holland laying down one of his best. Barron's writing takes other paths as well – "Until Then" rides a cha-cha groove as a reminder that what's now considered cheesy was once serious business. "Speed Trap" races down the highway implied in its title, bumping up against the edges of free jazz, building a beautiful tension along the way. Opening cut "Porto Alegre" follows similar suit to the title song, with plenty of melody and spontaneous explosions.
Holland also contributes a pair of cool tunes: the frisky, dynamic "Pass It On" (originally the title track of one of his Sextet albums, and dedicated to the great jazz drummer Ed Blackwell) and the gorgeous, Latin-inflected "I Remember When." The trio visits the catalog of some of their favorite composers as well, including Mulgrew Miller (the swinging "Second Thoughts"), Duke Ellington (the lush "Warm Valley") and jazz piano innovator Thelonious Monk (the bouncing, whimsical "Worry Later"). While the trio never falters in its graceful handling of each tune, the tightest gestalt is between old friends Barron and Holland, who know how to set each other up for success as players, whether as soloists or accompanists. That's what comes from years of friendship and partnership, and it's what makes Without Deception go from merely great to truly exceptional.