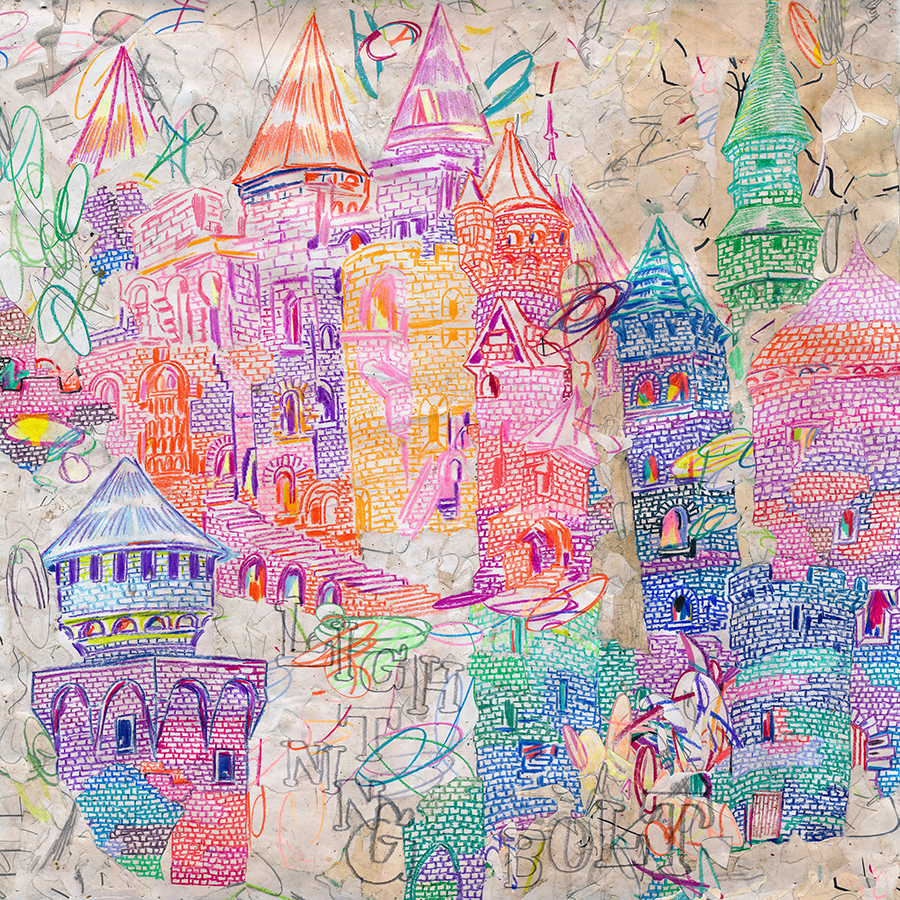 11 October 2019
"Brian [Chippendale]'s technique, with all due respect, is terrible," Kid Millions once regarded of the percussive half of Lightning Bolt, laughter in tow. He's not wrong. Chippendale plays their blitzkrieg tempos as if he has four arms, and it's a wonder that the two he's had to settle for have yet to atrophy after all these years. The noisy Providence experimental institution's music is kaleidoscopic and relentless in the same way Saturday morning cartoons are designed to rein in the impossible attention spans of hyperactive children. One cannot help but revert to using onomatopoeia in attempt to describe their sound. Brian Gibson's bass guitar (if you can call it that) shares a strong foundation with the elementary school arts and crafts project of creating your own necked instrument comprised of cardboard and rubber bands. The fascinated impulse to create and thrill through unorthodox means at a rapid fire bpm delivers as powerfully as ever on the duo's seventh full-length, Sonic Citadel.
"Hüsker Dön't" reaches the thick contour of their pop inhibitions without sacrificing any bit of signature onslaught for tunefulness. Its verses play out like Jimmy Eat World's "The Middle" by way of Ed Schrader's Music Beat before finally taking liftoff for the buzzing sonic highways of their wont. "Don Henley in the Park" blends a demented Chippendale singsong melody against a psychedelic, octave pedaled loop from Gibson. Its lack of low end lends it an airy feeling, signifying a pleasant interlude of sorts past the record's halfway point, letting the listener feel their feet on stable ground to collect themselves before one last stretch of mayhem.
The rest is sheer pummel and circumstance. It's almost enough to cause arrhythmia upon hearing Chippendale's first snare hit two-thirds into opener "Blow to the Head". Following two minutes of straight, blown out kick and tom work, one forgets the crisp fidelity of its sharp thwacking. Gibson's muscle car revving-inspired main theme to "Big Banger" bears potential to cause whiplash; it's tantamount to a spin on the Gravitron while the ride operator fell asleep at their post and let the nausea machine go for an extra fifty revolutions at peak speed. "Air Conditioning" and "Bouncy House" are Gibson-certified clinics on his inimitable method of oscillating seamlessly between abrasive low register and frantic lead guitar. Given the Brians' abilities to perform the work of two persons apiece at their respective posts, they have truly staked a claim as the most economically viable musical act of the current and past century.
Never quite cited for their lyrical content, "Halloween 3" grants a pretty clear vocalization from Chippendale in its intro: "I don't need no walls at all." As bewilderingly organized as Lightning Bolt's chaos is, the doomsday-peppered sky from which they reign has been the limit. No direction in our fabric of the cosmos boasts an obstacle for them, so this "wall" bit brags/confesses all one ever need know of their artistic drive. (Also, maybe, fuck Trump? Let's go with that too.) "Van Halen 2049" closes Sonic Citadel in jam fashion, recalling the pre-recorded touring days of the band when improvisation was law of the land. It, like the album, is a mammoth epic that leaves in its wake the pulsating of ear drums and tremoring of pupils.
You may purchase the record here.