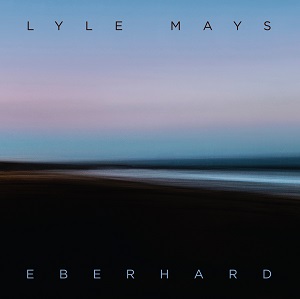 25 August 2021
When keyboardist Lyle Mays passed away unexpectedly in 2020, he'd been out of the game for almost a decade, having retired from his position in the Pat Metheny Group in order to pursue a bevy of non-musical interests. Turns out, however, that he hadn't given up music completely, and had been working on a piece originally written and debuted back in 2009. With revisions and recording completed before he died, Eberhard – dedicated to German bassist/composer Eberhard Weber, with whom Mays worked on Metheny's pre-Group LP Watercolors – is both a tribute to an old friend and a good example of what Mays brought to the table in his various musical endeavors.
Originally intended as a showcase for the marimba, "Eberhard" grew into a more expansive piece, with multiple elements contributing to a lush, atmospheric whole. While Wade Culbreath does indeed contribute marimba, vibraphone and other mallet-based instrumentation, the arrangement ends up unsurprisingly dominated both by keyboards from Mays and co-ivory tickler Mitchel Forman, and wordless vocals from a trio of singers, utilized in the same manner as on so many Metheny Group records. As on those albums, any danger of sweetness overload is belayed by roiling rhythms, in this case from two drummers, Alex Acuña and Jimmy Branly, and two bassists, Mays' Metheny bandmate Steve Rodby on acoustic and Jimmy Johnson on electric. (Rodby also wrote the liner notes.) Multi-woodwinds master Bob Sheppard joins Mays as primary soloist, while guitarist Bill Frisell (who played on Mays' solo albums in the eighties) and a four-piece cello section also make subtle but important contributions.
The efforts of this mini-orchestra result in a thirteen-minute suite that encapsulates Mays' vision throughout his career: melodic, verdant, bordering on sentimental, but with drops of acid hidden in the corners – attributes shared by its titular subject as well. It's an undiluted look into the creative mind of one of the last few decades' most influential keyboardists. As such, Eberhard is a fitting capper on a remarkable career.