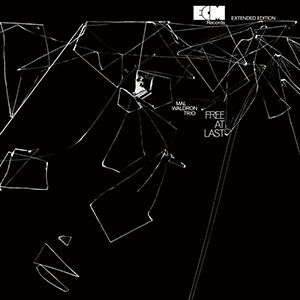 13 December 2019
Fifty years ago last month, the long-running and prolific German jazz and classical music label ECM (Edition of Contemporary Music) opened its doors with veteran pianist Mal Waldron's album Free At Last. Then a resident of Munich, the New York native was ready to kick off the second phase of his long career, which had already included accompanying Billie Holiday in the last years of her life, working with mavericks John Coltrane (to whose catalog Waldron contributed "Soul Eyes"), Charles Mingus, Jackie McLean, Booker Ervin, Eric Dolphy and many more, and being the house pianist for Prestige Records. German producer and bassist Manfred Eicher, meanwhile, was eager to expand his mail-order jazz operation into an actual label. This meeting of remarkable minds both re-established the legendary but introverted Waldron as a major jazz figure, but also launched a label that would itself become legendary for its roster, production style, graphics and general willingness to follow paths few others would contemplate.
This record's return to the spotlight as a double-vinyl reissue, with bonus tracks, is well-deserved – not just because of its status as ECM's debut, but simply because it's an excellent record in its own right. Joined by fellow U.S. expatriate Charles Becton on drums and Swiss native Isla Eckinger on bass, Waldron sounds positively inspired, both in his playing and his compositions. The ten-minute "Rat Now" opens the LP like a bomb blast, as Waldron wastes no time reminding jazz fans what a brilliant pianist he is – bashing when he feels like it, pulling back when required, comping like the master accompanist he became behind Holiday, and never, ever leaving the melody behind. Like fellow traveler Andrew Hill, he's simultaneously idiosyncratic and respectful of tradition. The bluesy "1-3-234" (which also comes in a bonus alternate take) damn near rocks in its attack without losing its swing, while "Boo" adds avant-garde keyboard moves to its hard bop core. Waldron and company's touch with ballads comes to the fore with "Balladina," which really shines (thanks in part of Eckinger's lyrical soloing) on a bonus version that nearly doubles the original's length, and a lovely take on the standard "Willow Weep For Me," also included as an unedited bonus cut. But the record's masterpiece is the appropriately-titled "Rock My Soul," an epic showcase for all three musicians that is by turns playful, aggressive, soothing and just plain strange – all of those elements held together by good old-fashioned musicality.
Given that the record has been out of print for decades, any reissue would have been welcome, but this beautiful version shows how much love ECM has for its classics. It's especially justified here, as Free At Last is an album that deserves to be mentioned in the same breath as piano trio classics by the likes of Thelonious Monk, McCoy Tyner, Bill Evans and Paul Bley. Whether you're a Waldron fan, an ECM fanatic, or just a jazz enthusiast, this reintroduction to a landmark for both artist and label is worth your time and attention.