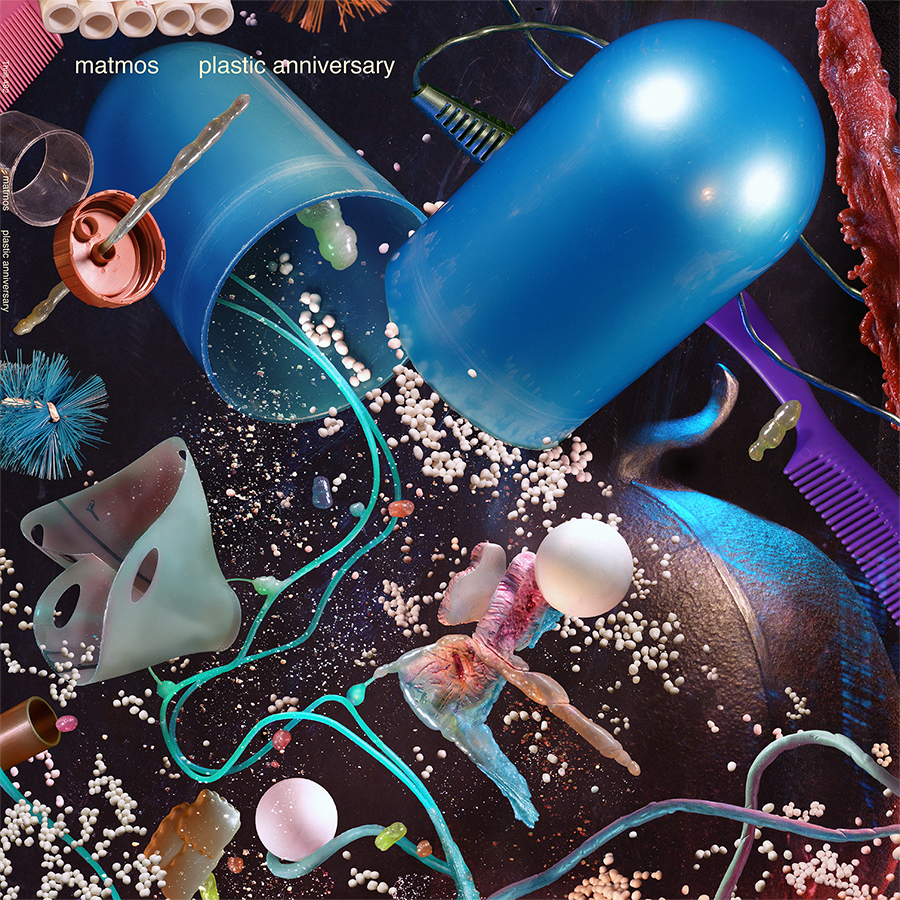 15 March 2019
More than just an electronic outfit, Matmos is the MacGyver of experimentalism. Show Drew Daniel and Martin Schmidt a seemingly unmusical object and they'll show you a bevy of opportunity. For instance, this is the duo whose previous full-length consists of one 38-minute track culled from the (largely unexpected) sounds of a washing machine; a guideline most artists would find restrictive and stymying. Whatever their arsenal, it will only ever serve thematically rather than box in their ingenuity. Their newest, Plastic Anniversary, broadens the toolkit considerably, featuring all things plastic from silicone gel breast implants to PVC pipes.
Cheekily, a few movements begin by sparsely introducing a key, unseemly component featured in the recording. The pitter patter of poker chips. The clacking of billiard balls. All in good humor, boldly showing off each item's simplicity before its warped interpolation. "The Crying Pill" enters timidly with pitch-shifted squeaks of the giant blue pill shown on the album cover, locked in with backing manic arpeggios. Matmos are masters of eschewing object permanence in favor of potential, and once "Pill" hits its percussive stride, that foundational squeaking suddenly ditches its identity and we instead assign traditional signifiers both musical (muted trumpet) and emotional (delirium). Even the established familiarity of plastic horns and flutes take on different forms—sometimes the roar of an elephant, other times the authenticity of real brass.
Due to their musique concrète approach, it bears a workmanlike, ramshackle quality resembling the thumping latter-day Tom Waits output, particularly in "Silicone Gel Implant" and the old-timey conveyer belt groove of "The Singing Tube". The whistle-rife "Collapse of the Fourth Kingdom" sounds like an overzealous referee directing a New Orleans funeral march through aural kaleidoscope, and these more bombastic moments on the record can be attributed to a Montanan high school drumline recruited for sessions to pound away on recycled plastic. The polyethylene stylings of Deerhoof's Greg Saunier were then added atop the primal stomping to give Anniversary an evident, resourceful edge in contrast to its glitch beats.
"Thermoplastic Riot Shield" evokes the violence its namesake suggests in a shrieking industrial noise piece, equal parts Krzysztof Penderecki and power drill. "Silicone Gel Implant" jaunts through the annals of anxiety with an undercurrent of suction cup effects and intermittent horn blares, conjuring the perfect score to some high-stress brainteaser or the most nerve-racking Final Jeopardy! imaginable. The title track, named so for the quarter-century Daniel and Schmidt have spent together as creative and romantic partners, yields unshakable pride. Within its regal, horn-laden framework, you can fully realize sunrise on a futuristic utopia—perhaps one striven for by Matmos given the eco-conscious nature of the LP's fruition and rollout. Here they've taken discarded materials that often end up engorged in the nose of a tortoise or in the stomach of an albatross, and like the saviors and illusory masters they are, put these dangers to better use by dubbing them instruments.
You may purchase the record here.