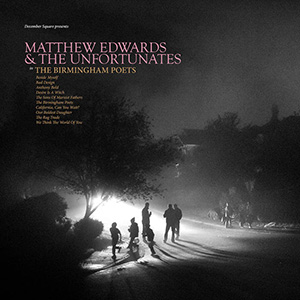 5 June 2019
The art of the pop song is a mysterious thing. Getting that perfect balance of words and music, something that will instantly beguile the ear but challenge the mind, something emotionally resonant but perceptively provocative – something that interweaves the creator's intensely felt self-expression with the kind of accessibility that draws in even the unfamiliar – is no easy task. These are the things that make a great song, or a great set of songs, immortal – the kind of music to which one returns over and over, not only never tiring of it, but finding new things to impress, delight and ponder each time. It's a process unique to every writer – baffling to those on the outside of it, perhaps not even fully understood by the creators themselves.
The number of songwriters who really, truly navigate these strange, sometimes treacherous waters and come up with treasure is small. We definitely count Matthew Edwards as one of those. With his band the Unfortunates (and his prior band, San Francisco's wondrous Music Lovers), the Birmingham, UK-born singer and songwriter produces smart, beautiful, catchy records on which songs rule. His third with the Unfortunates, The Birmingham Poets continues the upward swing on which he's been since launching his solo career.
Edwards pushed himself and his songs into new, more adventurous directions on his previous LP Folklore, with artier arrangements and a taste for just the right amount of dissonance to disrupt the lush melodies. He continues down that path here, giving guitarist Craigus Barry plenty of room to shake things up when needed. Indeed, this is probably the most electric guitar-oriented album the Unfortunates have yet made. Whether providing ringing support on "Beside Myself," straightforward riffery on "Bad Design" or clouds of feedback on "The Sons of Marxist Fathers," Barry's axe is so prominent it's practically Edwards' duet partner.
He's not the only one who makes major contributions to Edwards' vision, however. Legendary singer Dagmar Krause (Slapp Happy, Art Bears) adds her distinctive croon to "Bad Design," The Rag Trade," and the title track. Half-ballad and half-anthem "The Sons of Marxist Fathers" employs European free jazz notable Chris Cundy for some wild bass clarinet scree. Edwards' wife Jennifer weighs in on the wryly solipsistic "Beside Myself," adding coolly delivered counterpoint to the protagonist's introspective claims. "I want to tell the truth," the singer asserts, but Mrs. Edwards begs to differ.
Indeed, "Beside Myself" proves a perfect opener for the album, as it sets the scene for Edwards' vision: sardonic wit linking arms with heartfelt sentiment, as melancholic introspective holds itself up to mockery, yet still elicits sympathy. It's a trick on display elsewhere as well, from the lightly-countrified pop of "Desire is a Witch" to the droll folk of the title tune. The record isn't all wit, however – Edwards has always known when to drop his eyebrow back in place for cuts like the pure pop "California, Can You Wait?" and the beautiful ballad "Our Boldest Daughter," both of which take full advantage of not only his easy way with melody, but his rich singing.
Like any good record by a thoughtful, experienced writer, The Birmingham Poets covers a lot of emotional ground, from self-loathing to detachment to compassion – sometimes all in the same tune. And like any forward-thinking artist, Matthew Edwards builds on his past successes, continuing to evolve as a performer and a tunesmith, putting all his talent and effort into making The Birmingham Poets (yet another) masterpiece.