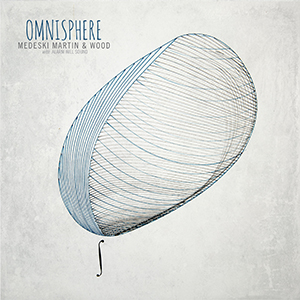 13 December 2018
When Medeski Martin & Wood appeared in the nineties, their major innovation was bringing serious jazz chops to the then-ascending jam band movement. At first it was nearly as easy to dismiss them as it was for the Grateful Dead wannabes, even if the quality of the musicianship was higher. But keyboardist John Medeski, bassist Chris Wood and drummer Billy Martin proved far more ambitious than most of their more rock-minded peers. By the time they got to early 'aughts albums like Uninvisible and End of the World Party (Just in Case), things had gone beyond mere groove music into the downright weird. Once the trio did one of John Zorn's Book of Angels albums, all bets were off.
Having proven themselves the most experimental groove combo on the circuit, MM&W take another step forward with Omnisphere, a concert collaboration with postmodern orchestral ensemble Alarm Will Sound. The gauntlet is thrown in "Kid Tao Mammal (unworldliness weirdo)," composed by AWS percussionist Payton MacDonald. An enigmatic piece more about atmosphere than melody, it becomes something else on the back of MMW's groove, adorned with watery electric piano, insistent muted trumpet and Martin's free solo. The drummer's "Coral Sea," ironically, is light on percussion, instead pulling everything back in a stark, air-filled arrangement that highlights floating keyboard chords and free-range cello probes. The strings come on stronger on "oh ye of little faith…(do you know where your children are?)," a chamber piece written by AWS multi-instrumentalist Caleb Burhans that incorporates the horn section for drifting waves of polyphonic beauty. "Northern Lights," another AWS piece, this time by bassist Miles Brown, falls closer to MMW's wheelhouse, allowing Medeski to contribute some rippling organ and the horns to build an edifice of jazzy dynamics. The bands reach their highest initiative with "Eye of Ra," a twenty-minute Medeski piece that takes his love of classical and chamber music and turns it into a shimmering strings/keyboards suite of free jazz freakouts and minimalist melody.
The conglomeration also tackles a pair of tracks from End of the World Party, including "Anonymous Skulls," given a string-enhanced but fairly faithful reading, and the title track, which, coming after the epic "Eye of Ra," sounds like a giddy afterparty following a massive accomplishment. Which, in fact, the magnificently performed, madly aspirational and ultimately inspiring Omnisphere most definitely is.