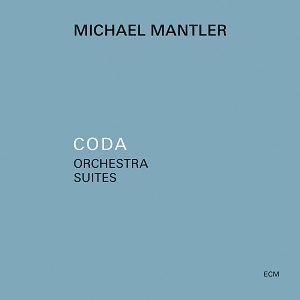 28 July 2021
Trumpeter and composer Michael Mantler has had a long and colorful career that's encompassed free jazz, chamber music, jazz fusion, symphonies, soundtracks, and everything in between. For Coda – Orchestral Suites, the Austrian musician draws from everything, reworking pieces from past works via a horn-and-string laden chamber orchestra, vibraphone, electric guitar and his own probing horn. The last time he recycled his own music was on 2014's amazing Jazz Composer's Orchestra Update, so not only is there precedent, there's a good chance the results will lean toward excellence.
And so it is with Coda, as Mantler refashions his music with controlled vision and a painter's eye. The edgy "Folly Suite," based on pieces from his 1992 album Folly Seeing All This, takes the original string pieces and fleshes them out with wind instruments, careful uses of dissonance, and some tasteful electric guitar from Bjarne Roupé. The axeman is even more prominent on "TwoThirteen Suite," which takes music from Mantler's 1975 Carla Bley collaboration 13 3/4 and turns it into a magnificently rich orchestral work. "Cerco Suite," adapted from 1995's Cerco Un Paese Innocente, puts emphasis on staccato strings, whorling flute and the leader's own trenchant horn, while "Alien Suite" takes the trumpet/piano duets of 1985's Alien with Don Preston and forms them into dense chamber music.
The record closes with "HideSeek Suite," based on the 2001 album Hide and Seek, which revolved around experimental music icon Robert Wyatt's interpretations of writer Paul Auster's words. Eschewing vocals, the suite favors a solemn mix of guitar and strings at the beginning, with reeds adding character, before exploding into a tornado of strings, horns and flute – a fitting capper for an ambitious, beautiful project.