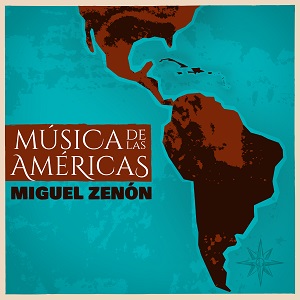 25 August 2022
Saxophonist and composer Miguel Zenón has long been at the forefront of modern jazz – synthesizing post bop and Latin jazz in ways his peers and predecessors have hinted at, but never fully realized as well as he has. His fifteenth LP Música de las Américas proves the point. In tandem with his working trio of pianist Luis Perdomo, bassist Hans Glawischnig and drummer Henry Cole, plus the percussion ensemble Pieneros de la Cresta from his native Puerto Rico, Zenón paints a series of pictures blending accessible rhythms, lush melodies and improvisational flair.
Opener "Tainos y Caribes" kicks off with Perdomo's rhythmic bass piano lines, before resolving into a frisky melody that sets up call-and-response between the keyboardist and the leader. The romping "Imperios" keeps the feet and hips in motion, while allowing Zenón to lean hard into his prodigious alto sax chops. The luscious "America, El Contiente" contrasts its dreamy melody with Cole's insistent rhythms, while also highlighting some aggressive soloing by Glawischnig. The alternately brooding and exhilarating "Venas Abiertas" proves itself equally as effective with mysterious ethereality and blazing hard bop. The delightful "Navegando (Las Estrellas Nos Guían)" swirls all of Zenón's virtues into one glorious soup of exciting instrumental flurries and imminently danceable grooves. Like the final number in a movie musical, "Antillano" closes the album with an exuberant blast of salsa and sax soloing.
Inspired by the history of the Americas, both pre- and post-colonialism, with all the messy political and social upheavals that implies, Música de las Américas has some gravitas to its message – there's plenty of philosophical as well as musical substance here. But ultimately the album rises and falls on Zenón's incredible musicality, and that never falls.