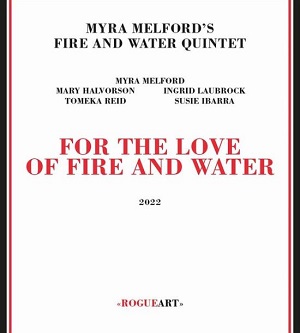 7 April 2022
For the Love of Fire and Water, the latest album from the rightly acclaimed pianist/composer Myra Melford, makes a statement on two fronts. First, the record takes its inspiration from painter Cy Twombly's Gaeta a collection of drawings that includes the subtitle from which the album takes its name. Second, Melford assembled a band of musicians notable for pathfinding work in their own rights, all of whom happen to identify as female: guitarist Mary Halvorson, cellist Tomeka Reid, saxophonist Ingrid Laubrock and drummer Susie Ibarra.
A significant part of Melford's genius is her practice of writing song structures that allow her musicians to fully use their improvisational abilities. That goes triple for Fire and Water, as it features her loosest arrangements yet – some of them to the point of being vague. Melford leads off opener "I"with her own free playing, channeling her inner Cecil Taylor to signal that the boundaries around the melody should be considered guidelines more than rules. Her bandmates follow suit, indulging in a bout of collective improvisation that exploits the tension between flying completely off the handle and keeping it together. The group deliberately pushes that dynamic past the breaking point on "VI," but brings it back into focus on "VII," balancing the chaos of Melford and Ibarra's scattershot attack with Halvorson's exploratory riffs, before everyone locks in on Reid and the guitarist sears the off-kilter melody into your cortex. "VIII" cleverly turns the musicians loose over a steady pulse of handclaps, anchoring the spontaneity and rebooting the tension from earlier tracks, before "IX" shatters the chains and gives in to celebratory chaos.
Melford does focus the gang from time to time, as on the vibrant "II" and "IX," letting them have their way, but more strictly on her terms. Essentially functioning as ballads, "IV" and the album closer "X" slow down the tempo and concentrate on the tunes – on the latter, Halvorson's distinctive skitter compliments, rather than disrupts, the twilight-like beauty. But the rest of the record shows that the leader doesn't need to rule with an iron hand. For the Love of Fire and Water proves Melford's dedication to self-expression – her own and everyone else's.