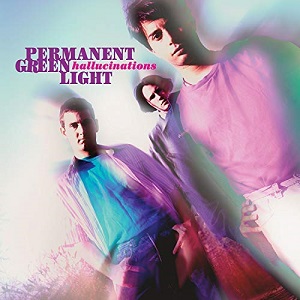 21 November 2018
One of the things that makes Omnivore a great label for reissues isn't just its emphasis on classics of the alternative rock era. It's also its commitment to the lesser lights (by which we refer to public bandwidth, not quality) from the same era – the side projects and successor bands to well-known, or at least, well-established, artists. Case in point: Permanent Green Light, singer/songwriter/bassist Michael Quercio's group following the dissolution of Paisley Underground leading light The Three O'Clock. The trio of Quercio, singer/guitarist Matt Devine and drummer Chris Bruckner released an EP, an album and a couple of singles, but was essentially done by the early 90s, not even lasting five years.
But, on the evidence of new compilation Hallucinations, what a glorious handful of years it was. Harder-edged and less dreamily psychedelic than the TO'C, PGL's sonic wave worked the contrast between Quercio's thin croon and Devine's muscular riffing. Using that aesthetic on a set of extremely melodic songs from the stringers' pens, the result was the kind of irresistible loud pop that should've set the rods of both alternative rockers and power popsters alike a-twirl. Only the universe knows why that was not to be, but guitar pop fans get a second chance to discover the absolute delights of rockers "Lovely to Love Me" (a demo that sounds better than most fully-produced garage rock tunes), "Street Love" and "Honestly," poppers "The Truth This Time," "All For You" and "(You & I Are The) Summertime" and ballads "Marianne Gave Up Her Hand" and "Ballad of Paul K." Also of note is outlier "Portmanteau," a sort of a sixties psychedelic exploration filtered through seventies classic rock anthemry, like Golden Earring covering something off of Love's Forever Changes.
Devine is a wonder, Quercio is at his smart pop best and Bruckner channels Keith Moon as well as anybody post that luminary's death. An excellent combo that fell through the cracks of a confused early nineties music industry, Permanent Green Light deserves this second look more than just about anyone else from the time period.