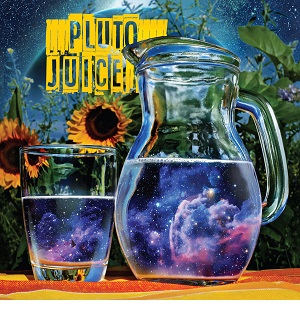 15 July 2021
Led by acclaimed saxophonist Dayna Stephens and drummer Anthony Fung, Pluto Juice explores two concepts on its self-titled debut: space travel and the EWI, or electronic wind instrument. Having already earned a stellar reputation for his acoustic work, Stephens now takes on the EWI with the same melodic flair and improvisational fire, using guitar pedals and the instrument's huge range to coax sounds out of it no sax could make, but played in a style only a sax can duplicate.
The spacey psychedelia issuing out of his electronic horn tracks with the theme of galactic exploration, providing a thick-toned intro and rubbery riffs for Stephens' "Outskirts of Neptune," duetting with guitarist Andrew Marzotto's own spiraling lines. The saxophonist goes even further out on Fung's "Trial on Mars," using a distorted tone to cut through the airy arrangement, and digs straight into distortion for the drummer's roiling "Green Gargantua." Steeped in funk, Fung and bassist Rich Brown keep the rhythms in motion regardless of tempo, letting Stephens and Marzotto have plenty of support for their star-reaching excursions.
"Lies That Tell the Truth" breaks protocol thematically, but closes the album out with the same tasty blend of acid funk and spiritual jazz. Here's hoping that Pluto Juice is not the first time this particular ensemble decides to travel the spaceways.