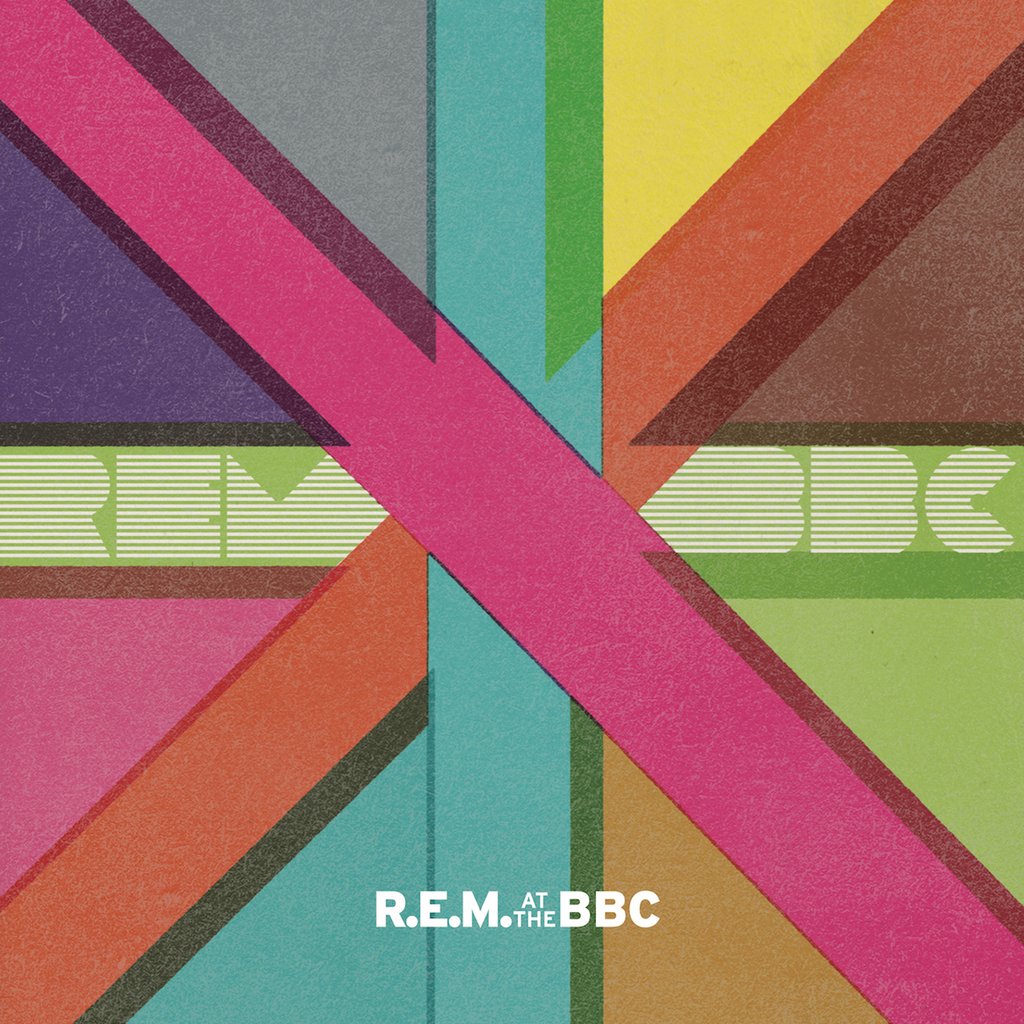 3 January 2019
Across the bulk of its nine discs, R.E.M. at the BBC avoids retelling R.E.M.'s origin story. Most of the material here presents the Athens, Georgia quartet as mature songwriters. The band heard here are not the darlings of American college radio. They belong to the world. Two discs of BBC sessions lean heaviest on 1998 and travel toward 2008. Songs from a 1991 performance on Nicky Campbell Session Into the Night strip songs from Out of Time including deeper cuts "Fretless" and waltz-time "Half a World Away" to their acoustic bones, paired with a rowdier "Radio Song" and Michael Stipe's pensive vocal during "Losing My Religion." Bassist Mike Mills sings the Troggs' "Love is All Around" as Stipe covers the "ba ba ba" background vocals and guitarist Peter Buck hews to the mandolin that helped define the sound of the album.
Buck gets louder on non-album cut (and "It's the End of the World as We Know It" forerunner) "Bad Day" and Green single "Orange Crush," recorded in 2003 for Mark and Lard. Another disc includes a full 12 tracks recorded for a John Peel Session in 1998, when the band were supporting Up songs like the dramatic "Walk Unafraid," lush "Lotus," cartwheeling "Daysleeper," and Beach Boys homage "At My Most Beautiful." "Electrolite" from New Adventures in Hi-Fi is a highlight alongside early cut "Perfect Circle," and the set concludes with a rousing "Man on the Moon."
For fans of the early stuff with founding drummer Bill Berry, disc three presents an In Concert session from 1984 that features then-unreleased cuts from 1985's Fables of the Reconstruction including "Auctioneer," "Old Man Kensey," "Feeling Gravity's Pull," "Wendell Gee," and the album's signature single "Driver 8." Stipe cozies up to the British crowd by apologizing for American president Ronald Reagan, before asking whether anyone could lend him a shoe in his size. The set reaches back for jangle-pop favorites "Second Guessing" and breakout single "Radio Free Europe." Although Stipe's cavernous and reverb-drenched vocals sit well behind the music (and sometimes the crowd) on songs like the loveable "Talk About the Passion" and urgent "West of the Fields," the band is sharp. The one-two adrenalin punch of "Gardening at Night" and "Carnival of Sorts (Boxcars)" from the band's 1982 debut EP Chronic Town also appear.
Two discs collect a 1995 Monster-era concert broadcast from The National Bowl, including the band's final Top 20 hit "Bang and Blame." Two further discs document R.E.M.'s first headlining slot at the 1999 Glastonbury Festival, again supporting Up. Disc eight includes 11 songs from St. James Church in 2004, leaning on songs from 2004's Around the Sun like "Leaving New York" and "Aftermath." Special guest Thom Yorke of Radiohead joins Stipe for "E-Bow the Letter," standing in for Patti Smith. The set's final disc is a DVD of BBC-TV documentary Accelerating Backwards and performances including "Pretty Persuasion" on The Old Grey Whistle Test, "Crush with Eyeliner" on Top of the Pops, and "So. Central Rain" and a cover of Iggy Pop's "The Passenger" on Later … with Jools Holland.
An accompanying book includes essays by BBC staffers including DJ Steve Lamacq. Jools producer Mark Cooper concludes his report with the statement, "It's already been seven years since R.E.M. called it a day. It's lonely without them." This pile of well-preserved pop may not stop everybody from hurting, but it can coax smiles to temper the loss.
comments powered by