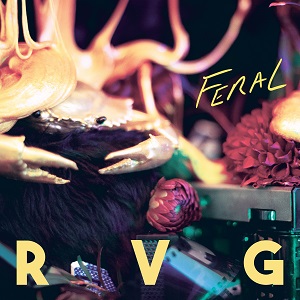 23 April 2020
Australian quartet RVG proved themselves expert practitioners of explosive, melodic rock & roll on their remarkable debut A Quality of Mercy in 2017. Three years later, Feral picks up exactly where its predecessor left off. The group's shimmering jangle, thrumming bass lines and propulsive drumming combine into an instantly appealing rush of guitar rock magic, almost like a distillation of Trouser Press (or The Big Takeover!) favorites like the Smiths, the Go-Betweens and the Velvet Underground.
But that's not to say RVG rips off their inspirations. Leader Romy Vager's uncommon lyrics, widescreen melodies and steely delivery put the band in a class by itself, especially in comparison to twenty-first century indie rockers more interested in showing off their record collections than writing substantial songs. "I Used to Love Here" conveys both resignation and resolve with lush jangle pop, while "Christian Neurosurgeon" pumps up the rock energy with sardonic humor in lines like "Have you found the cross/In the medulla oblongata?" The band ends the record with the epic "Photograph," seven-and-a-half minutes of slowly building intensity that takes time providing release from the tension.
The singer/songwriter often sounds like she can barely keep control of her anger and regret. Yet RVG never fails to keep things tuneful, even when Vager's emotions boil over and she comes close to embodying the record's title. Music nerds who've wondered if guitar rock has become a copy of a copy of a copy of a copy will find the spark again with RVG and Feral.