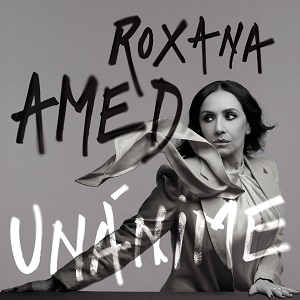 14 September 2022
Born in Buenos Aires to a family of both Italian and Middle Eastern blood, singer Roxana Amed has never followed one strict path. Though heavily influenced by the Latin music of South America, she's equally soaked in the cadences and technique of American jazz, and has ever been unafraid to incorporate any kind of music she finds inspiring – she's much like Brazilian treasure Flora Purim in that way. For her latest album Unánime (which means "unanimous"), however, Amed makes a concerted effort to explore the world of Latin music – not just the music she grew up with in Argentina, but also that from Brazil, Peru, Cuba and flamenco. Instead of the dance-oriented sound most non-Spanish speakers associate with Latin music, Amed and a series of guests instead till more intimate and personal sonic fields.
On "Nueva Luna, Mundo Arjo," Amed invites Argentinian legend and ex-Pat Metheny Group multi-instrumentalist Pedro Aznar to be both duet partner and bassist, the pair singing in each other's ears even as Aznar lays down a rubbery solo. She contracts with another immortal, Cuban pianist Chucho Valdes, for a brisk, scat-singing take on nineteenth century Cuban composer Ignacio Cervantes' "Los Tres Golpes." She injects energy and a soulful vocal touch to Miami-based jazz pianist Martin Bejerano's stunning "Dos Tribus," a song its author has never recorded – a mistake rectified as he joins Amed for the privilege. Again in the company of Bejerano, Amed brings her own distinctive singing style to Chet Baker-style ballad territory with Miguel Pous's "En Mi Soledad."
In two cases, Amed adds lyrics of her own to pre-existing pieces. Contributing to bassist Edward Perez's beautiful "A Veces No, Siempre," her restrained but emotive singing compliments the musician's melancholy but hopeful solo. She reunites with Valdés for another Cervantes tune, putting words to the absolutely gorgeous "Adiós a Cuba." But even before that Amed manages to put her own personal touch on every tune she chooses, with her guest stars acting to enhance the work, rather than steal the stage. In all, Amed pays tribute to some of the greats of Latin music without ceding her own identity to them one iota.