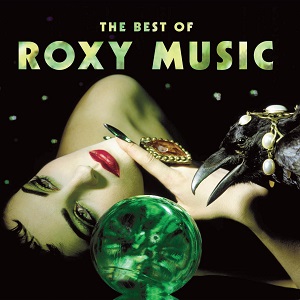 2 September 2022
Roxy Music caps their fiftieth anniversary year with a reissue of The Best of Roxy Music, a 2001 single compilation that has never been on vinyl before. This edition has been given the same half-speed remastering job as the previous reissues, and sounds terrific.
The clever thing about this collection is that it proceeds in reverse chronological order, beginning with the slick and gorgeous "Avalon" and ending with the raw and weird "Re-Make/Re-Model," each of which sounds like it was made by a different band. In a way, it makes sense – the group's final three albums were its most successful, lobbing hit singles onto the British charts like a top batter cracking home runs and outstripping Roxy's early years (which, mind you, also had their share of radio and chart hits). When you're trying to hook new listeners, it never hurts to start off with the most popular tunes. But, in typically distinctive Roxy fashion, it's almost a subversion as well, starting with their smoothest and most accessible work ("More Than This," "Angel Eyes," "Dance Away") and ending with the quirkiest and most adventurous ("Do the Strand," "Mother of Pearl," "Both Ends Burning"), leading us from ear candy to high art, despite the band's career moving in the other direction.
Regardless, the comp remains eminently listenable, telling a story even to fans who already have the original albums. Plus the record includes three Roxy singles that never appeared on their studio LPs: the bristling "Pyjamarama," the rocking "Virginia Plain," and a soulful cover of John Lennon's "Jealous Guy" that went to #1 on the British charts. Though it may not makes the statement Roxy's full albums do, The Best of Roxy Music is still a strong collection that entertains and enlightens straight through.