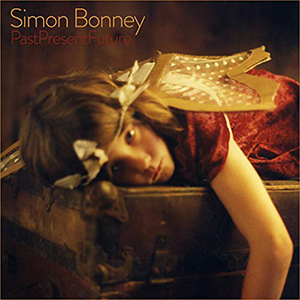 17 May 2019
Though best-known for his work with the great, idiosyncratic noir rock band Crime & the City Solution, singer/songwriter Simon Bonney put out a pair of strong, mostly forgotten solo albums in the mid-nineties. Brimming with both familiarity and iconoclasm, the rootsy Forever and Everyman found favor with critics, but didn't reach far beyond the circles of writers and Crime fanatics. Bonney recorded a third album to complete the trilogy, but it was never released, though a few tracks leaked out on social media and the soundtrack to the vampire film Underworld. Bonney retired his music career after that, resurfacing in a surprising Crime & the City Solution reunion in 2012.
Now Bonney returns to his solo career with PastPresentFuture, a compilation album that gathers together cuts from all three of his records. The older tracks hold up nicely two decades on. Brimming with drama without becoming histrionic, "Don't Walk Away From Love" and "Where Trouble is Easier to Find" create excitement through sheer force of emotion, rather than blown-up arrangements. Stripped down and low-key, "Ravenswood" and "Forever" remain as lovely as ever. But the bigger thrills come from the previously unheard tracks from the unreleased third LP. The stately "A Sweeter Kind of Pain," the sonorous "Eyes of Blue" and the lush "Annabelle-Lee" show, if not an evolution, a further refinement of his approach, sublimating the Americana influences so they're more feel than form, and using them to add soul rather than as a sonic signature. A delightfully twangy take on Scott Walker's gorgeous "Duchess" makes the song Bonney's own, no mean feat with material from an artist as unique as Walker.
The high quality of these songs makes us wonder why (a) the album was never released and (b) why Bonney didn't continue on, perhaps outside the confines of the major label system. "Can't Believe Anymore" may hold the clue. It starts out as a rootsy ballad, but evolves into multi-instrumental dissonance reminiscent of Crime at its artiest – a signal, perhaps, that Bonney was ready to go back to his old creative ways. He did just that in 2013 with Crime's comeback album American Twilight.
What makes Bonney's work special is his outsider take on Americana. Though his music works with familiar elements – acoustic guitars, violin, steel guitars, folk- and country-derived melodies – it maintains an exotic feel. It's hard to pin down exactly why – maybe it's the atmosphere, which feels more like the magnificent vistas of Italian western films than old newsreels of hillbilly music, or maybe it's his voice, rich in timbre and drama, but never indulging in artificial twang or strain for bonafides. As an Australian who lived for years in Berlin, Bonney brings a new perspective to the form, using its trappings for his own personal expression. He worries less about authenticity – no wielding banjos while wearing 1920s clothing here – than he does about conviction, taking the tools he clearly loves and building his own distinctive domicile.