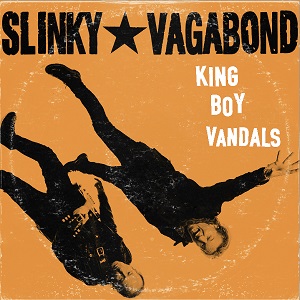 6 May 2021
Though best known as a fashion designer, singer/songwriter/guitarist Keanan Duffty has been a musician since the late seventies. While his fashion work has led him to work with David Bowie and the Sex Pistols (and to write the book Rebel Rebel: Anti-Style), he never let go of his desire to play music, recording several solo albums and forming Slinky Vagabond with Earl Slick, Clem Burke and Glen Matlock in 2007. Lineup changes see SV consisting of Duffty and Italian multi-instrumentalist/songwriter Fabio Fabbri on its long-awaited debut album King Boy Vandals.
From the beginning the group was designed to include guest performers, much the way hip-hop songs often incorporate guest rappers. The glam-inflected power popper "Prima Donna" (repurposed from Duffty's failed audition for Velvet Revolver) and the gnarly action rocker "Old Boy" both feature guitar from former Ultravox frontman Midge Ure, while the pensive pop tune "I'm Falling Down" and the soulful ballad "The Beauty in You" (about abandoned towns, rather than romantic affection) include keyboards from Dave Formula, formerly of Magazine. The strutting anthem "Fear No Evil" (another unused VR demo) invites contributions from Wishbone Ash's Martin Turner and Richard Fortus from Guns 'N Roses and the Psychedelic Furs – the latter also appears on the lush "English Country Garden." The award for most surprising cameo goes to the psychedelic ballad "Euphoria," which features ghostly guitar parts from avant jazz rocker David Torn. Bassist Tony Bowers, who's done time with Simply Red, the Durutti Column, the Mothmen and Alberto Y Los Trios Paranoias and plays with Fabbri in his solo band, provides the low end throughout.
Despite all the high profile names here, however, the focus remains on the band itself – without Fabbri's nicely crafted songs structures and Duffty's forthright singing, there'd be nothing on which the musicians could appear. By the time we get to the second half of the record, the guest spots diminish, and the loss of star power on the brooding "Absolutely Dark," the celebratory "Black Leather Jacket" and the dreamy "Rockin' Into an Explosion" doesn't hurt them in the slightest. Take away the guests and you've still got a well-produced, finely crafted and iconoclastic rock album that makes one hope Slinky Vagabond doesn't wait another fourteen years to make another one.