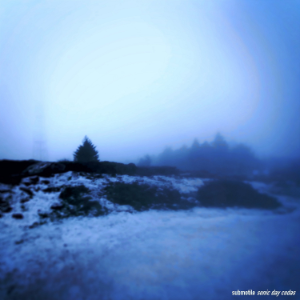 11 April 2021
Irish-Italian band Submotile (Michael Farren and Daniela Angione) just dropped their latest magnum opus. Recorded during the pandemic, it was produced and mixed by the band, and mastered by Simon Scott (Slowdive). Michael and Daniela play all the instruments themselves, though Daniela is the primary vocalist. As lovely as the song paintings were on their first record, this one moves things skyward by leaps and bounds. Hovering easily between post rock, shoegaze, and dream pop, this song cycle is one of the best shoegaze records I've heard in years. I am amazed by the immense production values and the many-layered tapestry that colors each song. I hear different things every time I listen through, and this one has been on repeat throughout the past month.
Opening track "Sunflower" will grab you right away as it unfolds in mellifluous wonder. It has a neat energy and warmth to it, almost as if the flower titled in the song is surrounding you. "Cyanotic" is towering and massive, with a punkish energy that I really dig. It is my favorite song here, an amazing sonic workout amidst many fantastic tunes. The drums and bass throb incessantly, scratching that 'gazer itch that we all feel when waiting for superlative work like this. "Microdose" is on the dreamier end of the spectrum, a gentle musical swell on a calm ocean. This is pure headphone heaven as your ears take in the many layers that make this up. "No Exit Cracks" is a bit heavier in feeling, though Daniela's sweet vocal tones even things out.
"Arcana" snarls and pummels its way through, offering hints of the noise rock influence this band has. It differentiates them quite a lot from other artists working this genre, and the song shifts between soft and loud quite seamlessly. "Anhedonia" provides hints of what a powerhouse this song would be in a live setting, and the Bonham-like drum fills will rattle your brain. Yet, the guitars are restrained and there is a gentle wave weaving through the mix. Daniela's voice is equally sublime, and this is floating in the cosmos music for sure. "Devolved" kicks major ass and shares a similar riff with "She's a Supestar" by the long defunct Verve. But the resemblance is slight, and you are soon involved with the music at hand. "Vital Signs" is pretty and a shorter piece, while the final "Waves of Life" is a long form, dreamy confection. What a lovely way to end out this release. This is a record to savor, one that will transport you to another dimension and wash away your troubles. Highly recommended!
Catch up with the band on Bandcamp and over on Facebook.