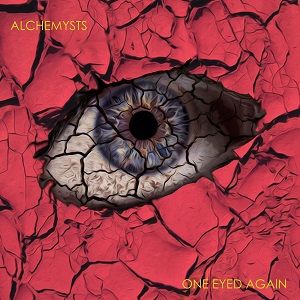 16 August 2021
When Bevis Frond leader Nick Saloman's label Woronzow entered into a partnership with NYC's Rubric Records, one of the hidden gems of the catalog they brought with them was Bridgewater power trio the Alchemysts. The groovy, heavy psych outfit released a pair of stellar records on Rubric/Woronzow: Simeon & the Alchemysts*, a strange and oft-stunning collaboration with Simeon of Silver Apples, and _Zero Zen, a trippy powerhouse that ended up being the band's last, with guitarist Paul Simmons going on to join the Frond. What newly minted American fans might not have known, however, is that the Alchemysts had released a pair of records before the Woronzow/Rubric hookup, debut One Eyed Again and follow-up Over and Out. Thanks to Tee Pee Records, who absorbed the Rubric catalog some years back, those albums are getting a new life, even if only in digital form.
Originally released in 1995, One Eyed Again introduced the Alchemysts to the world as a grunge-tinged nineties update on the previous decade's British neo-psych scene. Trading in spacey tones for muscular crunch, Simmons digs hard into the riffs and solos, like he's trying to blend Jimi Hendrix with Ron Asheton. Bassist Jon Guard and drummer Mat Love nimbly keep the propulsion going without ever lumbering. "Swarm," "A Road" and "Blind Side" could have come just as easily out of Seattle in 1991 as the U.K. four years later. But the group is already chafing at its self-imposed limitations, as evidenced by the swinging noir rock of "Skin Thing," the driving surfabilly of "Dust Devil" and the fuzz 'n' feedback epic "Stoned in Jerusalem." Somewhere between early Loop and midpoint Screaming Trees, One Eyed Again proffers psych rock with an emphasis on the rawk.
Released three years later on beloved Australian psych label Camera Obscura, Over and Out takes the same elements and cranks everything up. "Forget About It" throws in sitars and backwards guitars for a surprisingly sensual opening cut, but then all bets are off. "Harhowaloy" pounds its hard rock mercilessly, while "Alpha Centauri" practically overloads on acidic effects as it crunches. "Thee Head Chemyst" puts phased singing over flat-out metallic riffs, while "Laugh" mixes twangy spycraft with psychedelic drone. Working its dynamics for all they're worth, "25th of July" moves from seething acid folk to explosive power rock. "Big Black Beetles" adds swathes of noisy Aussie postpunk to the proceedings, as if the band is nodding to its new label's country of origin. As before, the record's centerpiece is a massive behemoth of a song entitled "Yesterday It Was a Secret," which takes the trick of variations on a theme and blasts it out to eleven. The band moves from strength to strength here, creating a masterpiece of nineties psychedelic rawk in the bargain.
The Alchemysts may not have existed in two decades, but, thanks to Tee Pee, their music not only lives on – it holds up nicely. The band deserved a wider audience than it got in its lifetime, and now psych fanatics have a chance to catch up.