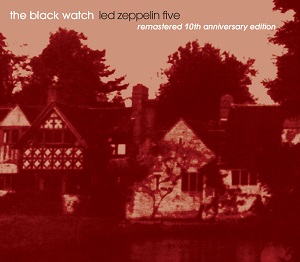 16 July 2021
Forever trumpeted within these virtual and physical pages as one of the greatest bands not enough people know about, The Black Watch celebrates the tenth anniversary of one of its best: Led Zeppelin Five, remastered by current label ATOM Records. Even for a band that's provided such remarkably consistent pleasures over the decades, Zep Five is notable. Producer Scott Campbell makes his debut in the TBW universe here, broadening the group's textural choices without compromising its clarity, and coaxes career-best vocal performances out of frontman John Andrew Frederick. It's no wonder the band has worked with him off and on ever since. This was also the debut of guitarist Steven Schayer, late of Clay Idols and the Chills, who became a perfect foil for Frederick as harmony singer and lead player, if only for a short period.
But ultimately, as with any TBW LP, it comes down to the songs, and Zep Five is packed with great ones. Want sweet and captivating? "The Stars in the Sky" and the epic "Kinda Sorta" (which boasts a great noise rock solo) represent two of their most beautiful pop tunes. NNeding to rock out? "How Much About Love" and "Earl Grey Tea" (sung by Schayer) blast out with strength and vigor. Feeling a power pop jones? The superbly catchy "Like in the Movies" and "Emily, Are You Sleeping?" are sure winners, in both the band's catalog and the genre in general. Need to go on an aural trip? "Oscillating," "Weirdly" and the closing cover of the Beatles' "It's All Too Much" (originally an unlisted bonus cut, now fully acknowledged) will take you to places TBW records don't often go.
Song for song, Zep Five stands as one of TBW's strongest albums – and, again, that's really saying something, considering the standards of excellence the group usually upholds. It's almost painful to indulge in the usual cliché, but it's the truth: if you've been denying yourself the pleasure of The Black Watch's company over the years, Led Zeppelin Five is one of the best records with which to make the acquaintance.