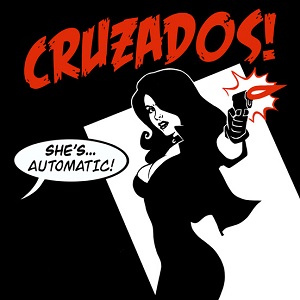 12 August 2021
Evolving out of L.A.'s much-beloved Chicano punk trio the Plugz, the Cruzados never got their due in their eighties existence – the curse, perhaps, of being a straightforward, punk-pedigreed rock & roll band on a major label (Arista) looking for both the next Bruce Springsteen and the next Poison. The band split on the eve of the grunge takeover after a pair of solid LPs and an appearance in the cult film Road House, as leader Tito Larriva went on to semi-stardom with his long-running band Tito & Tarantula and bassist/co-writer Tony Marsico and drummer Chalo Quintana inaugurated successful session/journeyman careers with everyone from Bob Dylan to Social Distortion. Second album axeman Marshall Rohner (who'd also logged time with T.S.O.L) unfortunately passed away, as did Quintana just recently.
Marsico wasn't ready to let the group's legacy just peter out like that, so he penned a bunch of tunes during the pandemic and brought the Cruzados back from the dead for one more go with She's Automatic. Larriva declined to participate, but gave his blessing, leaving the bassist to put together a new band by basically melding with the hard rock band Little Caesar, including singer Ron Young, guitarist Loren Molinare (who also led L.A.'s long lost Dogs), guitarist Mark Tremalgia and drummer Ron Klonkel, a sometime Caesar collaborator. Joined by a bunch of guests from Cruzados contemporaries like X, Los Lobos, the Pandoras and the Blasters, Cruzados Mk. II picks up right where the original band left off.
Gravel-throated and soulful, Young makes a fine substitute for Larriva, never indulging in the kind of histrionics expected of a rocker of his era, and the rest of the band treats the songs with respect without sacrificing attitude. Recorded with clarity but minus the high production gloss of the major label years, bluesy rock & roll crackers like "Nine Million Years," "Wing and a Prayer" and the title track hew close to the group's original intentions, while "Sad Sadie" taps into the classic rock balladry perfected by the Rolling Stones. Though conceived almost as an afterthought, She's Automatic captures the spirit of the original band arguably better than its predecessors, and allows the Cruzados to go out on the high note they deserved.