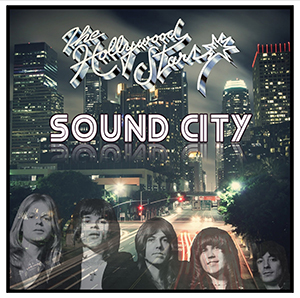 11 October 2019
Born in 1973 thanks to the patronage of Kim Fowley and done by the late 70s, the Hollywood Stars are one of those worthy bands that got lost in the shuffle, mainly due to timing. With one foot in glam rock (always a hard sell in the States, unless it was just hard rock with eyeliner) and the other in power pop (which would briefly become big business with the advent of Cheap Trick), the band seemed to be just out of step. By the time the group had its major label debut issued on Arista in 1977, it had already recorded two albums that were never released, undergone some lineup changes, and saw its vision compromised by an attempt at turning them into soft rockers. (No coincidence that future Air Supply producer Harry Maslin helmed the Arista record.) The band became a footnote in rock history only for Fowley's involvement and for being the first to record Kiss demi-classic "King of the Night Time World." It's enough to make anyone throw in the towel.
Recorded in 1974, what was intended to be the Stars' original debut came out as Shine Like a Radio: The Great Lost 1974 Album in 2013 courtesy Light in the Attic. Now the band's second attempt sees the light of day. Recorded in 1976 after the departure of singer Scott Phares and the ascension of guitarist and primary songwriter Mark Anthony to the frontman spot, Sound City is nothing but big hooks, catchy tunes and exuberant performances. With swaggering guitars and vocals, "Escape," "Shotgun" and the irresistible "All the Kids On the Street" wave the flag for stripped down glam, like Sweet hits that never were. "Habits" and "Too Hot to Handle" dial up the voltage for lead guitar-soaked hard rockers that sound like precursors to proto-hair metallers like Starz. "Make It to the Party" channels the slide guitar-fueled party rock of the Faces, while "So Blue" jumps into the Raspberries' ultra-romantic end of the pool. "I Can't Help It" and "Sunrise On Sunset" would fit snugly on the Yellow Pills compilations of lost power pop classics. The record ends with the glammed-up boogie of "Houdini of Rock 'n' Roll," a mini-epic frosted with electric sitar, of all things.
Produced by Neil Merryweather, Sound City avoids the glossiness already taking effect on seventies rock (and which would stain its next effort), going for an almost raw atmosphere that would've fit in nicely with punk and new wave. The high quality of the tracks reinforces the notion that, if the band could've just held on a little longer, it might've al least picked up a cult following in the power pop era of the late seventies. At least its efforts on Sound City won't go to waste.